Posted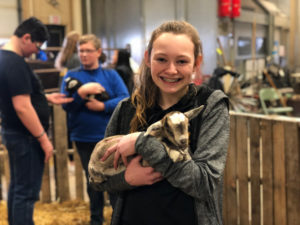 FFA Week and Keystone Degree Awards
Lancaster Mennonite, the only private school in Lancaster County to have an FFA, celebrated their annual FFA Week in February. As part of the National FFA Organization, LM's Hans Herr FFA has 30 current student members, over half are female students. Their chapter gets to meet during the school day as opposed to after school meetings. They participate in service and educational and recreational activities throughout the year. They also attend local, state and national contests, county and state conventions, visiting speakers, fairs and farm shows.
FFA WEEK
The week of Presidents Day is always National FFA Week. LM celebrates FFA week by different activities. This year, the chapter presented a chapel to the student body, made milkshakes all week during lunch, hosted educational games and had livestock exhibit for the school to come and see. They also hold a teacher appreciation breakfast and sponsor lunch for the lunch staff.
The animals were brought in by LM FFA students who are actively raising them, goats by Matt Kirk '19, steers by Victor Mattilio '22, rabbits by Katya Kennedy '19 and Christian Ness '22, and chickens by Emma Shreiner '20.
Keystone Degree Awards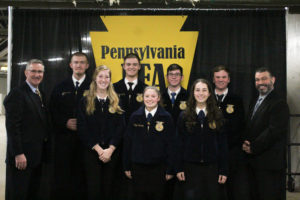 Lancaster Mennonite had seven seniors earn the Keystone Degree at the PA Farm Show, the highest membership degree the state can give to a member. They also had two freshman win their FFA jackets through an application process. They were given their jackets at the PA Farm Show as well. Keystone Winners were – Katya Kennedy, Chloe King, Matt Kirk, Dawson Mast, Colin Nolt, Hunter Rohrer, Maria Stoltzfus.
Nolan and Nori King, parents of Chloe, received the Honorary Keystone Degree because Chloe was their third child to receive the Keystone Degree. Parents who have three or more children get the Keystone Degree receive this award.