Posted

Messiah University and Lancaster Mennonite School (LMS) recently signed a multi-year agreement, as part of the University's Pathway Partners Program, to advance the mission of both institutions. The partnership will support quality, Christ-centered education in central Pennsylvania, and will include components such as training, development and continuing education of LMS teachers; dual enrollment discounts for LMS students enrolling at Messiah; special admissions-focused events; scholarships for LMS students who attend Messiah as a traditional residential undergraduate student; graduate degree discounts; among other benefits.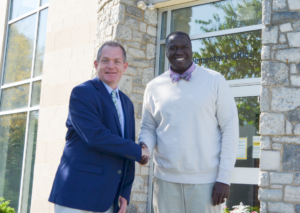 "Messiah and Lancaster Mennonite share similar roots in their respective Anabaptist traditions, and today they can both be described as dynamic and diverse communities committed to excellent education in a Christ-centered atmosphere," said Dr. Rob Pepper, Messiah University's executive director and assistant to the president for innovation and university partnerships. "We are pleased to build upon the long-standing relationship that we have with Lancaster Mennonite and are looking forward to new points of collaboration that will emerge as they join the Pathway Partners Program."
"We are thrilled about the opportunity for Lancaster Mennonite School to partner with Messiah University, and we look forward to the ways it will benefit our students, families and employees," said Dr. Michael Badriaki, superintendent of Lancaster Mennonite School. "This collaboration between our two schools with our shared values, Christ-centered and student-focused approach is a win-win for everyone."
About Messiah University
Founded in 1909 and located near Harrisburg, Pennsylvania, Messiah University is a nationally ranked, private Christian university of the liberal and applied arts and sciences that enrolls nearly 3,300 undergraduate and graduate students. This partnership is facilitated through The Bridge Center for Continuing Education and the Office of University Partnerships at Messiah University.
About Lancaster Mennonite School
Founded in 1942, Lancaster Mennonite School provides PreK-12th grade education in a diverse community that nurtures students to become creative and innovative learners who are prepared for college, career and life. Centered in Christ and committed to educational excellence, students are empowered to change the world through Christ-like love, peacemaking and service. They embody their core values within the school community to: Seek Jesus Wholeheartedly, Live Compassionately, Build Bridges of Pace, Cultivate Global Citizens, Nurture Curiosity and Creativity, and Empower Lifelong Learning.