Posted
Lancaster Mennonite School Turns 75!
Lancaster Mennonite School is celebrating its 75th birthday from October 2016 through October, 2017 with major events throughout the year. Each is partly a celebration; each is also a review and examination of the school's character and contribution through the 75 years.
Everyone with connections to and interest in the school, including the general public, is invited to attend the programs on the school's main campus at 2160 Lincoln Highway East, Lancaster.
"We approach this Anniversary with hearts full of thankfulness," says School Superintendent Richard Thomas. "At the same time, we want on this occasion to consider the effect the school has had on many lives, and its place in the world of education. What has its contribution been? What could it have done better? What is its appropriate place in the future?"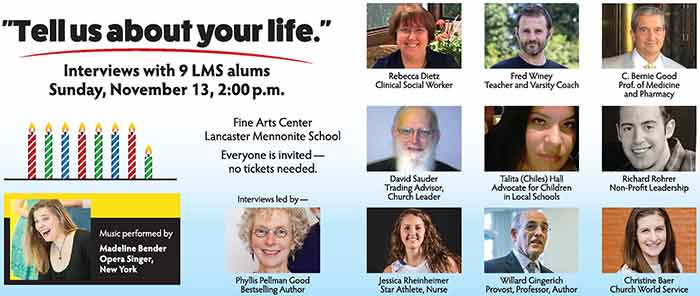 "An Afternoon of Interviews with 9 Alumni: Vocations and Avocations"
Sunday, November 13, 2016, at 2 p.m.
Nine alumni will be interviewed by Phyllis Pellman-Good. The key question is, "How did your time at LMS prepare you (or not) for your vocation and/or avocation?"
"This is not a program for boasting," say Phyllis Pellman Good and Merle Good, co-chairs of the Anniversary Program Committee. "We want these nine interviews to be open about low spots as well as high moments."
Alumna Madeline Bender '89, a professional opera singer, will offer music between the interviews.
The alumni to be interviewed are: Rebecca Dietz '74, a clinical social worker; Fred Winey '90, teacher and soccer coach; C. Bernie Good, M.D. '75, professor of medicine and pharmacy, international drug safety expert; David K. Sauder '67, commodity trading advisor and business advisor; Talita Chiles Hall '96; Richard Rohrer '91, non-profit leadership and community development; Jessica Rheinheimer '12, collegiate All-American and Registered Nurse at Penn State Cancer Institute; Willard Gingrich, Ph.D. '63, provost and professor of English at Montclair State University; and Christine Baer '10, 2016 Alumna of the Year, congregational resource developer for Church World Service Lancaster.
Other upcoming events are:
"A Conference: Education from an Anabaptist/Christian Perspective"
Saturday, March 4, 2017, from 8:30 a.m.-4 p.m.
More than thirty workshops, led by alumni, educators, business people, professionals, and pastors will look at why LMS has produced so many entrepreneurs, as well as leaders of nonprofits; the environmental history and stewardship of the main LMS campus; the role of standardized testing in education; discipline practices through the years; the place of athletics in the school's life; how international students have changed the flavor and fiber of LMS, plus many more intriguing subjects.
Plenary addresses will be given by John D. Roth, professor of history at Goshen (IN) College, and by Susan Schultz Huxman, president-elect of Eastern Mennonite University.
"An Evening of Story and Song"
Friday evening, October 6, 2017 (Homecoming Weekend), at 7 p.m.
Twelve alumni and faculty will tell stories from their lives around these themes: "In the world but not of it"; "Learning to set appropriate goals"; "Good times, hard times"; and "Making a difference."
Music will be presented by alumni musicians between the stories, along with alumni-led congregational singing.
"We're committed to telling the truth about the school's history and what it's become," says Thomas. "This Anniversary is also a wonderful opportunity to give thanks to God, to rejoice about our more than 10,000 alumni, and to thank our faithful patrons and churches for their goodwill and support. We humbly receive God's gift and grace."