Posted

March 24, 2020
Dear LM Parents & Students,
As COVID-19 continues to dramatically alter our normal routines, LM is adapting to opportunities, tapping into our creativity, and trusting in God like never before.
See below the updates about the extended school closure and remote learning, a video of thanks from me, and our encouragement to love beyond distance.
Extended School Closure
Governor Wolf announced
 yesterday an extension to the closure of all Pennsylvania K-12 schools until at least April 6. 
For as long as school buildings are closed, our plan is for teaching and learning instruction to continue remotely. 
Please continue to check the Schoology software platform and email for class assignments.
A reminder that these days from home DO count as school days and assignments ARE counted for grades. So please be sure you are completing and turning in assignments via Schoology or email with the deadlines that are given by teachers.
We're all experiencing a steep learning curve, and we'll continue to fine tune what scheduling looks like as we move forward. One change we are looking to include is making Fridays a "catch-up" day where students can meet one-on-one virtually with teachers to ask questions and get help, and get caught up on work from the week without new assignments coming in.
Thank you, Thank you!
See this video message from me with my heartfelt thanks for your patience and flexibility amidst these changing and uncertain times.
VIDEO: Thank you, Thank you - COVID-19 Update from LM Superintendent, Dr. Pam Tieszen
Drawing on Faith and Love
We are praying for you, our LM families and students. We are especially praying for those serving in health care and in roles that are on the front lines daily risking yourselves to save and support others.
As there is much fear and uncertainty, our faith in God brings us hope and comfort. We are given the opportunity to draw closer to God and to encourage one another.
We invite you to join us in loving beyond distances.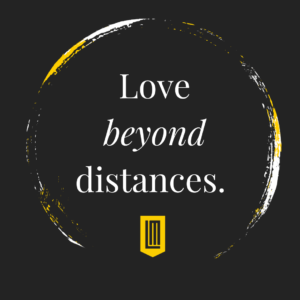 One way we invite you to love beyond distances is to pray. Here are some of our prayer requests:
Pray for our faculty who are quickly adapting and developing creative teaching strategies and building a sense of calm for our students and families.
Pray for our LM community of students and families as they are balancing many new things, and remember especially those who are vulnerable.
Pray for financial wisdom for LM as we make decisions, and look for LM transformation and opportunities in these days.
Pray that we can exercise and grow our faith, and that LM's values are a shining light during these challenging times.
Additional ways you can love beyond distances right now:
Stay home, protecting our most vulnerable
Call or video chat with grandparents, friends and family
Buy gift cards to local restaurants and shops to help keep them afloat during this time
Use your talents to create something inspirational to share in the mail or via electronic photos/videos with friends and family
Send an email to someone who needs encouragement, maybe a teacher or nurse, about how you have appreciated them this year and a note of encouragement in this time
We appreciate your ongoing prayers and encouragement. We will continue to stay in close communication with you. Visit our website to find all our school resources and communications on COVID-19.
Grace and Peace,