Posted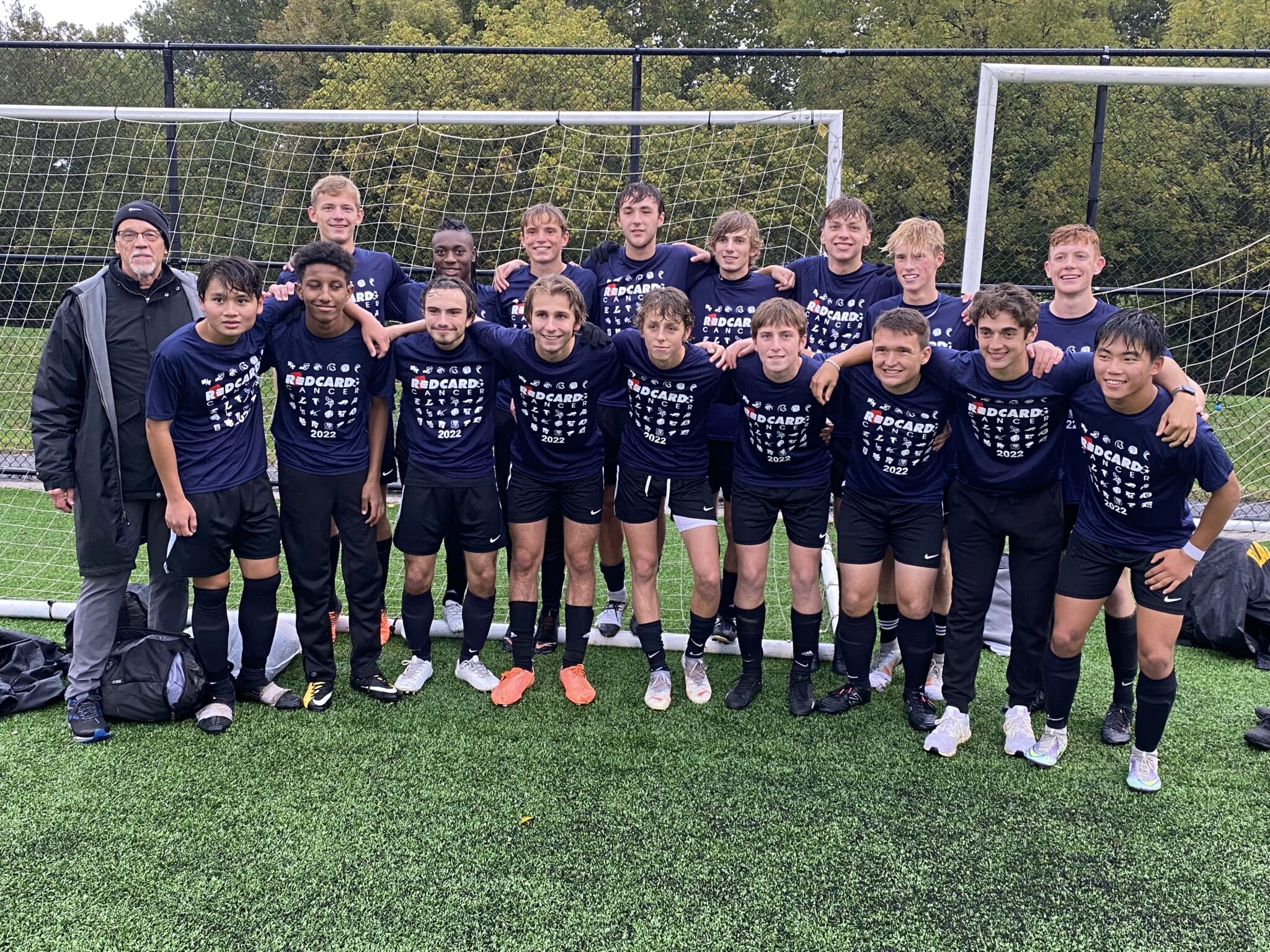 News for Immediate Release 10/13/22
LMH Boys Soccer Team Joins L-L League Teams to Support Cancer Research
Honoring Others Through the Red Card Cancer Initiative
Last week the Lancaster Mennonite (LM) Boys Varsity Soccer team joined with area L-L League soccer teams wearing shirts in support of the Red Card Cancer initiative. L-L League schools and families donated to support the cause, and local teams wore the shirts during warm-ups all week to do the same.
Red Card Cancer is a non-profit in partnership with the American Cancer Society, committed to raising money and awareness for cancer research. As they say on their website https://redcardcancer.org/, "Everyone has been touched by cancer. Through engaging and working with all levels of the greater soccer community, Red Card Cancer seeks to become how the soccer community can fight cancer, together."
Lancaster Mennonite joined the initiative in honor of late LM student, Nathan Longenecker, a former boys soccer player who passed away a year ago following a courageous eight-month journey with brain cancer. His brother, Jesse, a junior, is on the LMH team. They are also participating for LM Teacher and Boys Soccer Goalie Coach, Jim Amstutz' brother, Pete, who is currently fighting Stage 4 glioblastoma brain cancer.
Lynn Longenecker, parent of LMH students, Jesse and Nathan (that were mentioned above), shares, "I think the team started supporting this initiative sometime while our son Nathan was in high school. I remember thinking it was a nice thing to support, but never imagined cancer would soon impact our family in such a devastating way. During his first year of college, Nathan was diagnosed with brain cancer and died eight months later in October 2021. It was the most powerless feeling to see the disease take over and destroy his healthy 19-year-old body and know that no one knew how to stop it. I remember Nathan's oncologist saying he literally lays awake at night searching for better answers. Thanks to the school, team, and the Red Card Cancer campaign for helping support research to better understand this terrible disease. It won't bring Nathan back, but will hopefully help make better outcomes possible for others in the future."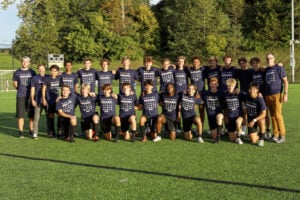 LM Teacher and Coach Jim Amstutz shares, "This year, I took the initiative to raise funds for the Red Card Cancer project because of my brother Pete.  He's suffering from the same type of stage 4 brain tumor that claimed the life of Nathan Longenecker just a  year ago (October 8). I know how significant it was last year to wear these warm-up shirts in solidarity with other L-L League Soccer teams and to raise funds for cancer research.  Years ago when I was coaching men's soccer at Bluffton University, my brother was the team manager.  He lives in Goshen, IN now with his wife, and together they have three adult children, a 3 year old grandson, and another grandchild on the way.  Being so far apart, I sometimes feel helpless in knowing how to be supportive. This was something my family and I could do to stand with Pete and the Longenecker family. Their family, along with the LM Soccer Booster Club and the LM Advancement office this year joined together with our family's efforts to raise $800 for cancer research. We are grateful."
Thanks to those who joined together to support cancer research through the Red Card Cancer initiative with the goal of finding a cure for cancer. 
Photo credits: Jordan Sands; Keith Nisly Photography
Media Contact:
Aubrey Kreider, LM Director of Marketing & Communications
kreideral@lancastermennonite.org
717-740-2435