Posted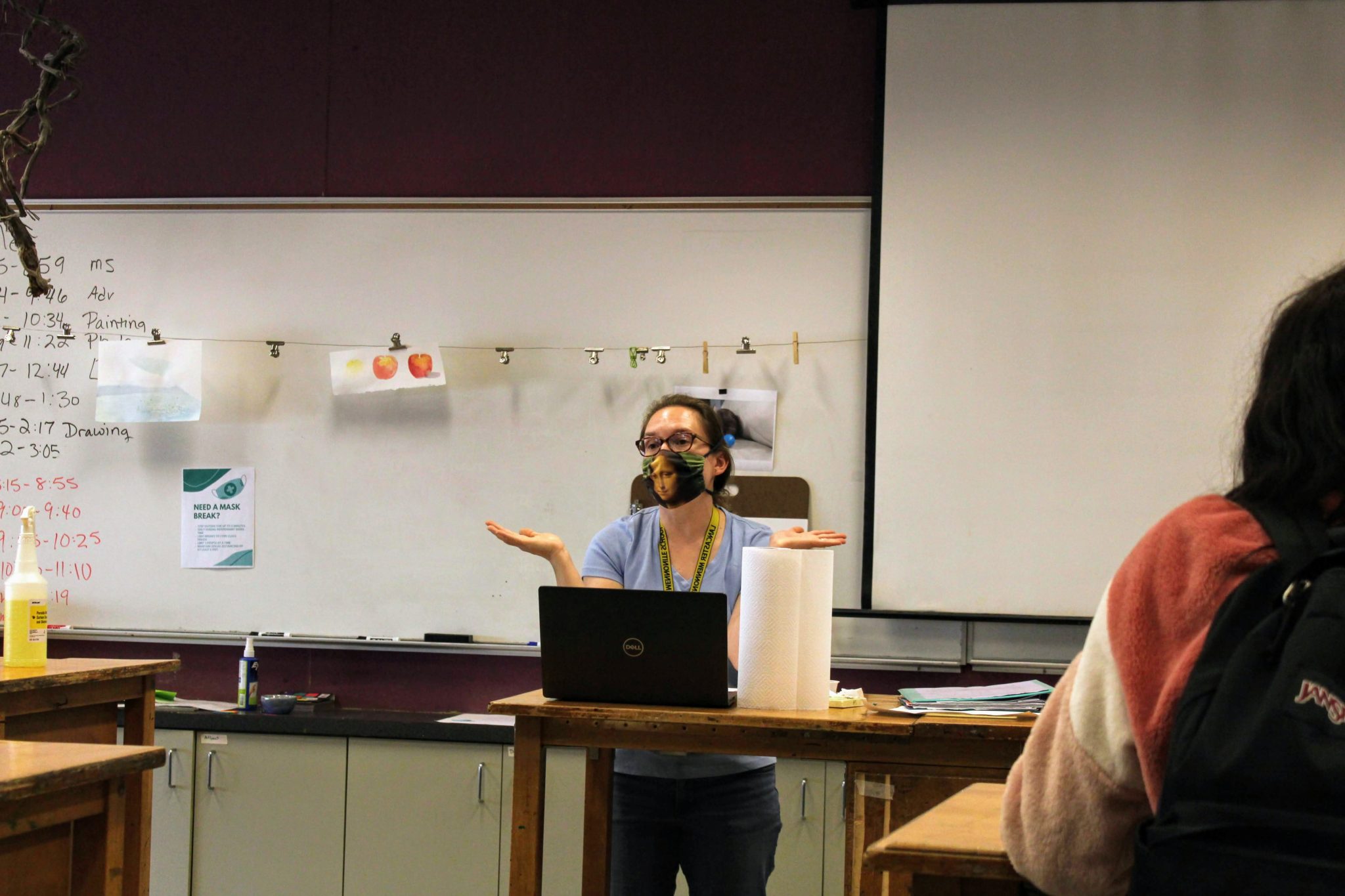 Article written by Isabella Astuto, LMH 12th grader and originally published in October 2020 edition of the Millstream, student newspaper
Photo credit Tram Van, LMH 12th grader
At the end of last school year, Mrs. Ciaccia, LMH's beloved art teacher of the past 22 years, laid down her paintbrush and concluded her career. In the wake of her absence came Mrs. Brookye Keeney, who had heard of Mrs. Ciacca's retirement and was eagerly waiting to see when the job opening would be posted. "I applied as soon as it was listed," she remembers. 
Prior to her job at the main campus, Mrs. Keeney had taught for two years at Hershey before its closing in 2019. She had enjoyed working within the LMH system back then, and was very excited to have the opportunity once again. She also has taught pottery at Riverbottom Pottery in Harrisburg for the past six years. 
Many classes have had to make changes because of the current COVID pandemic, and the art classes are no exception. "Starting a new job during a pandemic is really daunting," she notes. However, "Adjusting to LMH has been smoother than I thought, actually." To get to know students better, Mrs. Keeney employed the use of the app Flipgrid. Every student would record videos at home without their masks and perform a show and tell with an object they believed represented them in some way. 
While she simply could not choose between any of her art classes as her favorite, ("That's like asking me which one of my children is my favorite!") her favorite art form would have to be pottery. She went to a college where the ceramics program was well-known, so she was able to fully develop that skill. Painting murals is also high on the list however, as she used to volunteer with a group in Binghamton, New York called "A Room To Heal" that renovated critically ill children's bedrooms. 
Outside of work, Mrs. Keeney still creates plenty of artwork. She's made some freelance design work in the past, along with selling art on Etsy.com. A current personal project of hers is working on pysanky egg jewelry. Pysanky eggs are Easter eggs decorated with traditional Ukrainian designs. 
Besides art, Mrs. Keeney and her husband enjoy singing. They both have sung with Harrisburg Choral Society in the past, and hopefully will be able to do so again after the pandemic. "Everywhere I have lived, one of the first things that I look for is a choir to sing with," she said.
Mrs. Keeney uses all of her creative outlets and interests to enhance her teaching career. "I think all our experiences provide us with skills that can be applied in new situations and settings. Certainly teaching in similar private schools has helped me learn new approaches to teaching and creating curriculum for students to engage in artmaking practices. I think that my experiences as a parent also impact the way I value communication with families and how important that is."