Posted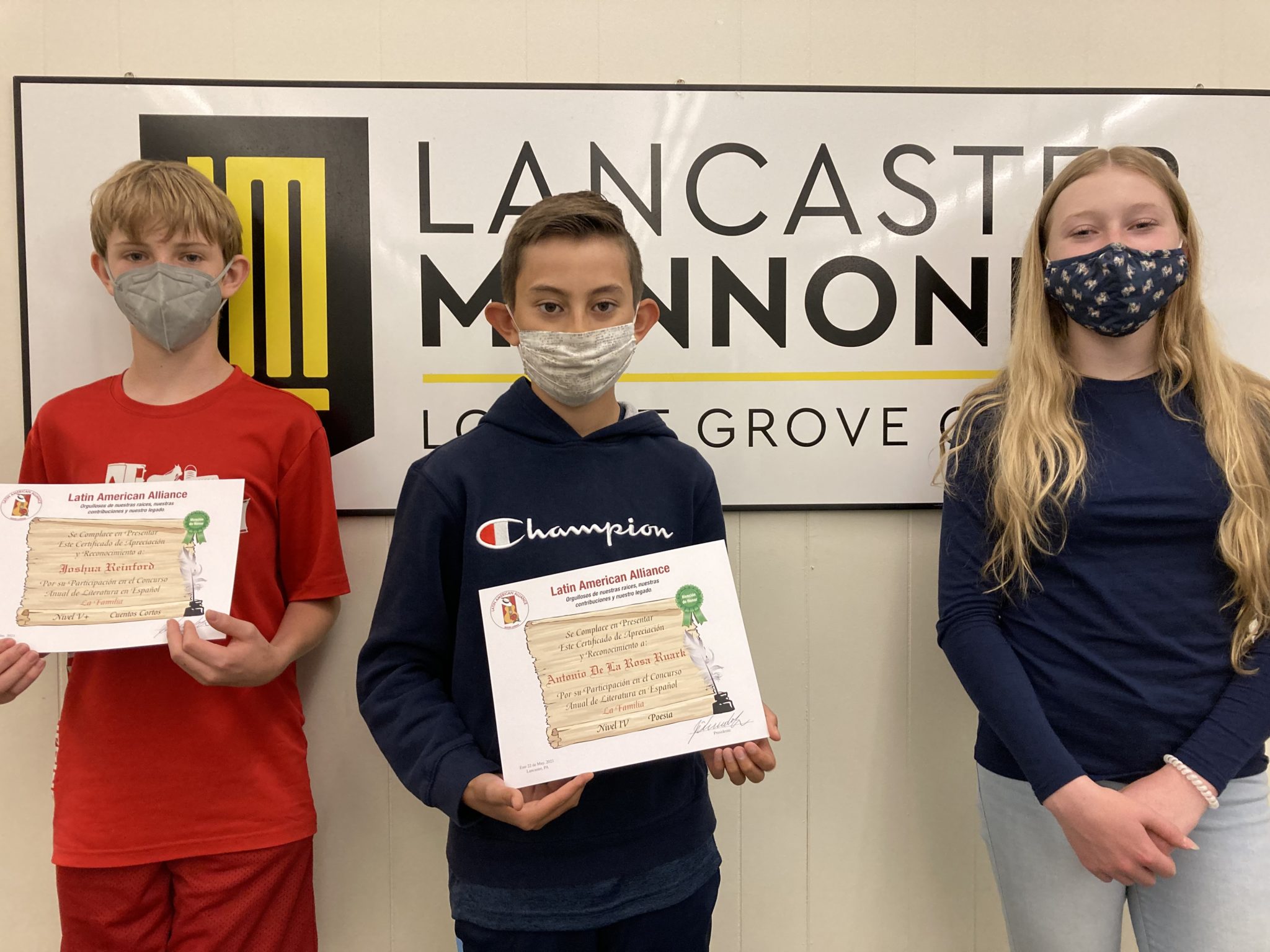 Congratulations to Locust Grove Spanish Immersion middle school students Ivana Doughtery, Tony de la Rosa Ruark and Joshua Reinford!
Competing against High School and college students, three LMS middle school Spanish Immersion students won recognition in the advanced Spanish levels of the poetry and short story contest of the Latin American Alliance of Lancaster. Ivana Doughtery won 3rd place in the Level 4 Poetry, Tony de la Rosa Ruark won an Honorable Mention in the Level 4 Poetry, and Joshua Reinford won an Honorable Mention in the Short Story category (Level 5 and above).
See below the students' poems and short story, and Ivana receiving her award at the Awards Reception.
Ivana's Poem
Familia Funciona
Todos nos agarramos de las manos.
Decimos una oración corta, 
porque hay comida esperando.
Nos sentamos en nuestros lugares,
y empezamos a comer. 
Hay risas,
hay argumentos,
hay conversaciones,
y todo se unifica en un sonido,
como una canción bonita.
Todos tenemos algo que contribuir a la familia.
Chistes,
Orden,
Consejos,
Consuelo,
O simplemente una presencia.
Todo es necesario,
Todo es lo que hace algo completo.
Y si algo pasa,
si la familia se separa,
Todavía funcionará,
pero no igual que antes.
Funcionará en su propia manera,
Juntos,
pero apartes,
al mismo tiempo.
Hay tiempos difíciles,
hay tiempos magníficos,
pero el punto central,
la cosa que nos ayuda en todo,
es,
y siempre será,
la familia.
Tony's Poem
Mi familia
Fuerte, Aunque a veces nos tropezamos
Y a veces nos pegamos
Siempre nos levantamos y reparamos
Amable, Mi familia no quiere odiar
Aunque algunos no nos respeten
Nosotros los tratamos bien
Maravillosa, me encanta mi familia
Los amo y me aman
Inmigrante, Antes vivíamos en méxico
Ahora en los Estados Unidos
Literaria, nos gusta leer
Voz alta para que los demás puedan oír
 Fantasia o Ficcion
Imperfecta, aunque a veces creemos
Que somos perfectos
 debemos admitir la verdad
Ágil, podemos adaptar
A varias situaciones
Problemas y acciones
Joshua's Short Story
Familia
Yo soy Jake y tengo 8 años. Yo estaba jugando con mis primos en la casa de mis abuelos. Era navidad y toda mi familia extendida estaba en la casa de mis abuelos para la día. Eran las cinco de la tarde y mi abuela gritó, "Todos vienen a la mesa, es hora de cenar." Mi primo, Joe, dijo, " El último a la mesa es un huevo podrido," y todos subieron las escaleras corriendo. Tres minutos después, toda mi familia estaba en la mesa y la comida estaba servida. Luego, mi abuelo gritó, "pueden comer," y todos empezaron a comer. Yo hablé con mis primos para casi toda la cena y después jugamos en la nieve por una hora. Hicimos unos muñecos y ángeles de la nieve y tuvimos una pelea con bolas de nieve. Mi papá nos llamó a la casa para intercambiar regalos. Nosotros corrimos a la casa y al sótano. Yo era la primera persona para abrir un regalo. Mis abuelos me regalaron un carro de control remoto. Recibí seis regalos mas de mis tias y tios. Después de intercambiar regalos, comimos postre. Yo comí mucho, pero el resto de mi familia excepto tres de mis primos, estaban llenos y no podían comer mucho postre. Esto hizo que yo pudiera comer más postre. Juguemos un poco más antes que mis padres decidieron que era tiempo de regresar a casa. Yo no quería ir, pero dijo, "Adiós," a todos mis primos y camine al carro. Yo subí al auto y manejamos a casa después de un día agotador.