Posted
The Great Winter Warm-up – making 6,500 comforters for those in need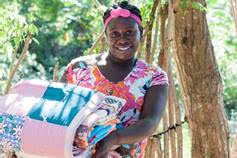 Mennonite Central Committee (MCC) is turning 100! Help contribute to the goal of collecting 6,500 comforters across the U.S. and Canada for distribution to people in need around the world during The Great Winter Warm-up. MCC East Coast has set a regional goal of collecting 5,000 comforters during January of 2020! Come and help us knot comforters or learn how to assemble a comforter. No experience required, and children are welcome to attend! Learn more at greatwinterwarmup.org.
Date: January 24, 2020
Time: 3 p.m. – 4:30 p.m.
Location: Lancaster Mennonite New Danville Campus, 393 Long Ln, Lancaster, PA 17603
Details: Students will be working on the comforters during the day, but the public is invited to help finish them up from 3:00-4:30 p.m.
Contact: Lindsay Carson, Principal at LM New Danville campus: 717-872-2506 ext. 3002 or carsonlb@lancastermennonite.org
More about MCC and the Great Winter Warm-Up
The Great Winter Warm–up January events will jump start MCC's supply of comforters that are sent to people in crisis all around the world each year. In 2018, MCC sent more than 53,000 comforters as a practical message of love and compassion in the name of Christ.
MCC was founded in 1920 when groups of Mennonites and Mennonite Brethren formed a committee to provide food and other assistance to people affected by war and famine in southern Russia, which is present-day Ukraine.
Today, MCC provides humanitarian relief, encourages sustainable development and strengthens peacebuilding initiatives in more than 50 countries. Comforters and blankets have been part of MCC's relief resources ever since the end of World War II.
"Each comforter is unique and conveys a message of compassion," said J Ron Byler, MCC U.S. executive director.
"People who get these comforters realize they are getting something personal. Someone has chosen the fabric and crafted each one with their hands. They understand this is a gift of love."
In recent years, comforters have brought warmth to people in Syria, Iraq, Jordan and Lebanon who have lost family members, jobs and homes because of the war in Syria and other violence in the region. In Malawi, comforters were given to people whose homes were flooded and to refugees from neighboring countries.