Posted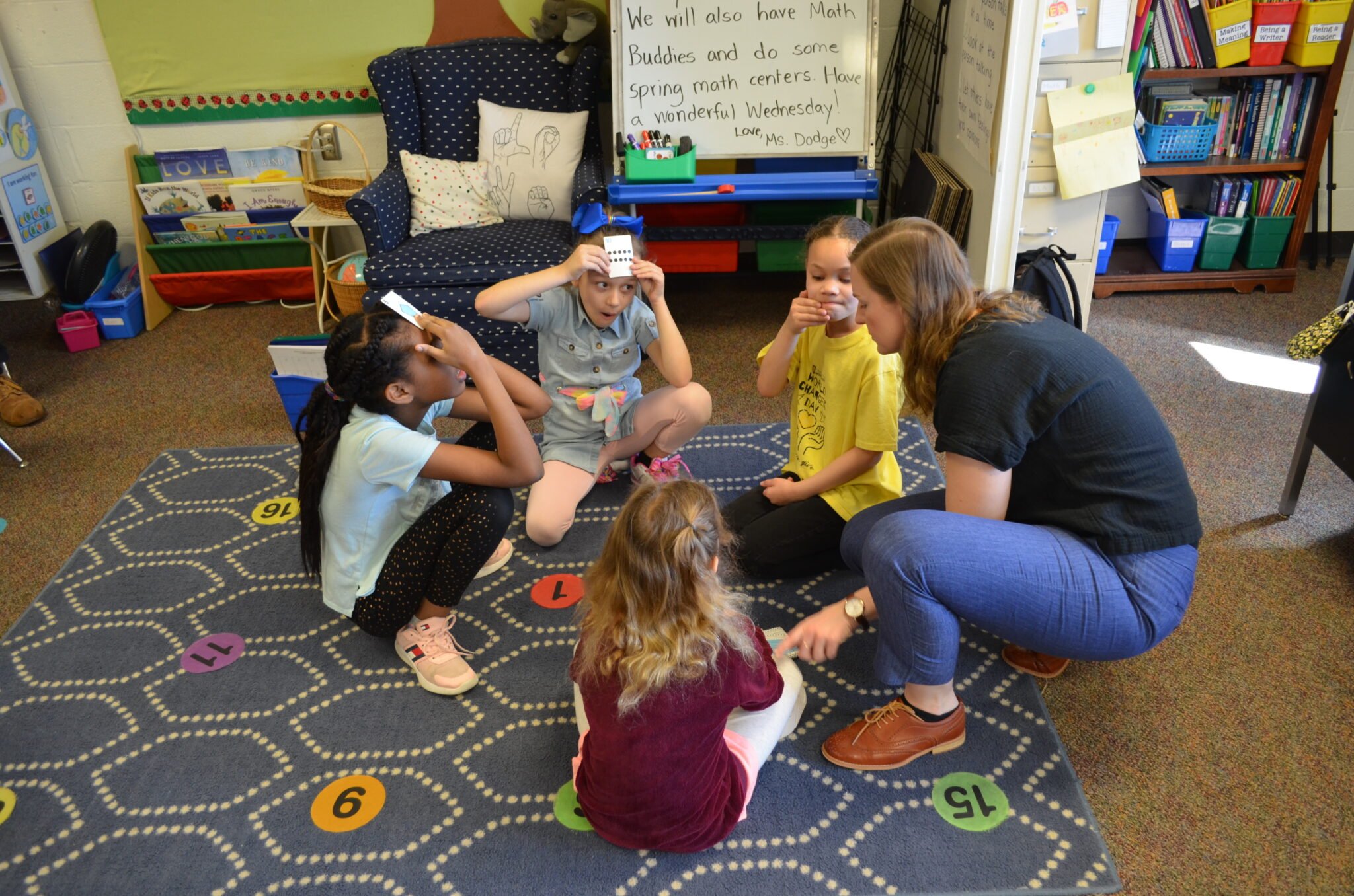 Second and third grade "Math Buddies Program" leverages games and activities to grow students' math skills and love of learning
Over the last two months, a collaborative effort of teachers, administrators, staff, and Intermediate Unit (IU13) staff from Lancaster Mennonite School at the New Danville Campus has led to encouraging math skills gains for second and third grade students. It started with teachers analyzing the mid-year Acadience math and NWEA MAP Growth assessment data, and identifying students' addition and subtraction fact skills to be an area of recommended growth.
Working together, a creative team with diverse talents developed a plan to improve scores for those specific skill areas in each class by the end of the year. Second grade teacher Sophie Dodge, and third grade teacher Angela Dietzel, sought the support of IU13 Math Consultant, Judy Trusz, as well as LM Librarian, Sarah Fichtner, and IU13 math specialist, Janelle Lammey. Through a series of classroom observations and data meetings, the team formed small groups of students across both grade levels who would each meet for just 15 minutes per week for targeted addition and subtraction strategy instruction specific to their current level. 
Wednesday Math Buddies
Each Wednesday morning, the four New Danville staff members each meet with their groups for a time dubbed "Math Buddies," which the students have thoroughly enjoyed and look forward to. The group leaders have used all sorts of games, speed activities, direct instruction, technology integrated activities, and other evidence-based strategies to engage students in fun and collaborative multi-age fact practice time. The LM value of empowering lifelong learning and nurturing curiosity are hard at work during Math Buddies time, as students are making new friends, laughing together, and challenging one another toward academic excellence. 
Student Success and Marked Improvement
Two months into the experiment, the team again met with IU13 consultant Judy Trusz, who was blown away by the student progress shared by the teachers. In sharing with supervisors at the IU13, Judy commented, "I am so impressed with what this group of women from New Danville have accomplished in the past two months when they focused on math facts and differentiation by combining efforts of many people on staff." 
Principal, Lindsay Carson notes that, "this collaboration and innovation is truly a strength of Lancaster Mennonite – the partnership between staff members and the belief that all of our students are truly 'our' students; that their progress is everyone's responsibility."
As the teachers have collected data over the two months, their results are clear – the students participating in Math Buddies have shown impressive growth across the board, pointing towards meeting the team's goals before the end of the school year.
Judy attributes this awesome success to "the excitement of all teachers involved with this initiative for their devotion to making the Math Buddy time worthwhile and fun!" She continues, "Another amazing finding was that ALL of the kids love this activity and complain when they missed it one week."
Article Written by: Lindsay Carson, Principal at the New Danville Campus of Lancaster Mennonite School
Media Contact: Aubrey Kreider, Director of Marketing & Communications at Lancaster Mennonite School
kreideral@lancastermennonite.org, 717-740-2435