Posted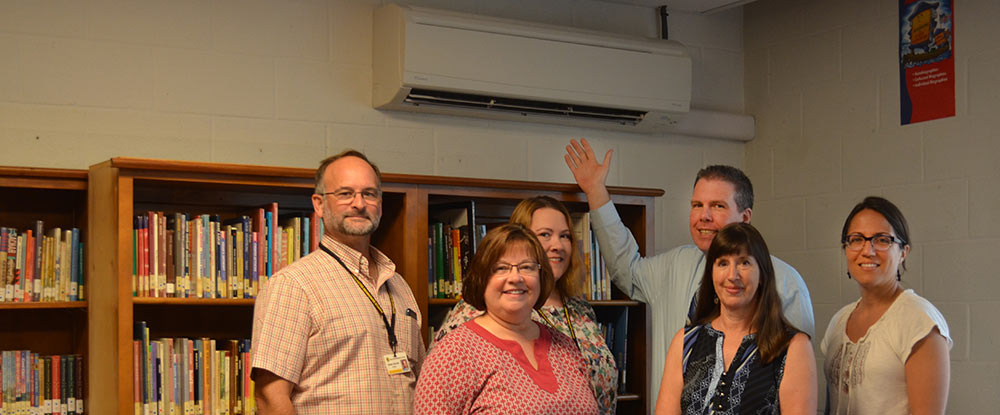 PHOTO: Locust Grove Campus middle school teachers join new principal Paul Smeltzer in enjoying new air conditioning units in the classrooms (l-r): Galen Sauder, Anita Dickert, Rebecca Wolgemuth, Barbara Josephian, Paul Smeltzer, Jenn Esbenshade.
The first day of school will be cooler for Lancaster Mennonite's Locust Grove Campus students who will beat the August heat with nine new air conditioning units. When students come back this August 22, both floors of the west wing will have new HVAC units as well as the library area.
Locust Grove students in grades PreK-8 will also have a cool new principal, Paul Smeltzer, who previously served as a principal for three programs operated by Camelot Schools in partnership with the School District of Lancaster.
Smeltzer was a teacher for six years before moving into administration for the past six years. He taught at Johnstown Christian School for three years, then worked for Abraxis Academy for a year before teaching for Camelot Schools. During his first year with Camelot Schools, he received the Teacher of the Year award.
Smeltzer also spent six years with the Coalition of Christian Outreach doing college ministry at the University of Pittsburgh at Johnstown. While working in campus ministry, he received the Martin Luther King Jr. Award for efforts made in ministering to diverse populations.
Smeltzer graduated from Clarion University with a bachelor's degree in secondary education social studies and a minor in history. He holds a master's degree in education administration from the University of Scranton and a master's degree in education for at risk youth from Eastern Mennonite University. He also has a certificate in peace building and conflict resolution from Eastern Mennonite University and has completed the International Baccalaureate Level I administrators training.
"I look forward to growing and working with the Locust Grove Campus community," Smeltzer said, "and I can't wait to see how God moves both with the students and staff."
This year, the Locust Grove Campus will add eighth grade to provide a full middle school of grades 6-8 this year with traditional classes as an alternative to the Project Based Learning approach at nearby Lancaster Mennonite Middle School.  An experienced team of teachers will provide the core middle school academic subjects at Locust Grove, supplemented by Smeltzer, who will teach sixth grade Bible and eighth grade health.
Jenn Esbenshade will teach Spanish I to the new eighth grade class as well as Spanish Immersion maintenance for students in sixth and seventh grade. In the elementary Spanish Immersion program for native English speakers, all classes are taught in Spanish from kindergarten through fifth grade. For sixth and seventh grade, only Social Studies and Language Arts are taught in Spanish.
Barbara Josephian will teach Language Arts to those in grades 6-8 who are not taking Spanish Immersion maintenance with Esbenshade. Josephian will also teach grades six and seven Mathematics. Neil Reinford will teach Algebra I.
Rebecca Wolgemuth is transferring from the Kraybill Campus middle school to teach science and Technology and Computational Thinking for grades 6-8 and Health for seventh grade. Galen Sauder is transferring from Lancaster Mennonite Middle School to teach grades 6 and 7 Social Studies and seventh and eighth grade Bible. Anita Dickert will continue to provide Learning Support services for middle school students.
The traditional middle school approach at Locust Grove is an alternative to the innovative, interdisciplinary LMMS Connect! program that engages seventh and eighth-grade students in project-based learning around a central theme for each quarter. The theme for Quarter 1 is "Putting the 'I' in Citizenship"; the theme for Quarter 2 is "All Systems Go!"; the theme for Quarter 3 is "History Now!"; and the theme for Quarter 4 is "iCreate". The students will present their projects at public exhibitions October 26, January 11, March 22 and May 24.