Posted

By: Jon Heinly '03, Director of Advancement
Many LM alumni have answered God's call to serve as chaplains in hospitals and long-term care facilities, including five who currently provide spiritual care to patients, families, and staff throughout Penn Medicine Lancaster General Health: JUDITH (WEAVER) BOHLEN '76, SANTA (LANDRAU) JENKINS '78, DAWN (OBERHOLTZER) WINEY '80, KEITH ESPENSHADE '80 (also Clinical Pastoral Education Supervisor) and RANDAL KEENER '03. Chaplains respond to many short and long-term situations: emergencies and trauma, spiritual and physical crises, receiving diagnoses, end of life decisions, death, loss and grief, and the difficult journey of illness. During COVID-19, they have also been challenged to respond to increased fears among staff and patients, as well as the isolation experienced by patients who cannot receive visitors.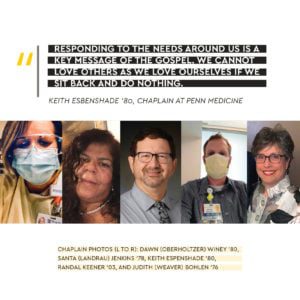 "Responder work is priceless," says Santa Jenkins of the work of Responders. "It really is a gift from God. The gifts of the Spirit are a unique set of skills that Christians bring to the table. People are in pain, they are frightened, confused and often asking 'why me?' We may not always have answers, but we have compassion and the peace that passes all understanding."
Each of these chaplains highlight different influences on their journeys toward this vocation, including formative experiences at LM. Judith Bohlen remembers how Charlotte Holsopple Glick, her dorm advisor, "modeled how to be with people and showed me genuine concern for the well-being of others." Dawn Winey notes that teachers such as Janet Gehman, Arnold Moshier, and Del Glick "were instrumental, both during LM years and beyond, in modeling a life of service and helping me discover and cultivate ways I could best serve God and others with my own set of strengths and experiences." Speaking of LM, Keith Espenshade says he was "exposed to people who are different than those with whom I grew up. Opening me up to a broader world view was an important foundation for further growth." Randal Keener values the life-long learning and curiosity that LM nurtures, which have been key to his ability to minister to "people from all walks of life."
As Responders, each chaplain mentions the importance of presence, using words like "reaching out" (Santa), "accompaniment" (Keith), "holding space" (Judith), being "the incarnation of Jesus for someone in crisis" (Dawn), and being a "listening and non-anxious presence" (Randal). They mention the sacred space that they are privileged to enter when offering caring love and compassion to those who are vulnerable, afraid, and grieving.
As these chaplains reflected on their journeys, they emphasized that past experiences influence where they are now and the importance of doing our own internal emotional and spiritual work and self-care so that we're able to effectively be present to the needs of others. Espenshade says, "Responding to needs around us is a key message of the Gospel. We cannot love others as we love ourselves if we sit back and do nothing."