Posted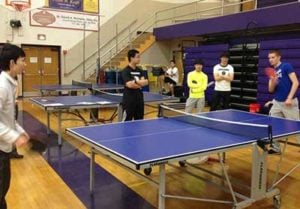 The newly-formed international ping pong clubs from Lancaster Mennonite and Lancaster Catholic high schools joined together for their first practice on March 10 and held their first tournament on March 12 in the Lancaster Catholic High School gymnasium.
The teams are composed of American students, Korea students and Chinese students at this point. The clubs are open to all students who are interested in the smaller ball.
Xiaodong Fan, the LMH coach and organizer, said it was a good experience for both schools to foster global interaction and collaborative learning. A native of China, Fan teaches Chinese language at both Lancaster Mennonite and Lancaster Catholic.
According to Fan, joint ping pong tournaments were instrumental in establishing formal diplomatic relations between the US and China in 1979. "The small ball moves the big balls forward, meaning ping pong helped establish good relations between the two big nations," he said. Fan believes that the game will also foster good relationships among diverse people and between the two schools. "Ping Pong will play a nice role to build bridges between our Catholic and Mennonite international students and schools."
In April, the team is planning to play members of the Manor Table Tennis Club and to invite students from other LMS campuses and local Catholic elementary schools to play with high school students. In May, Mr. Fan plans to take LMH and LCH students to visit Hempfield High School where he taught for 5 years prior to coming to LMH. Next year, he hopes to take them to participate in the National Ping Pong Competition.