Posted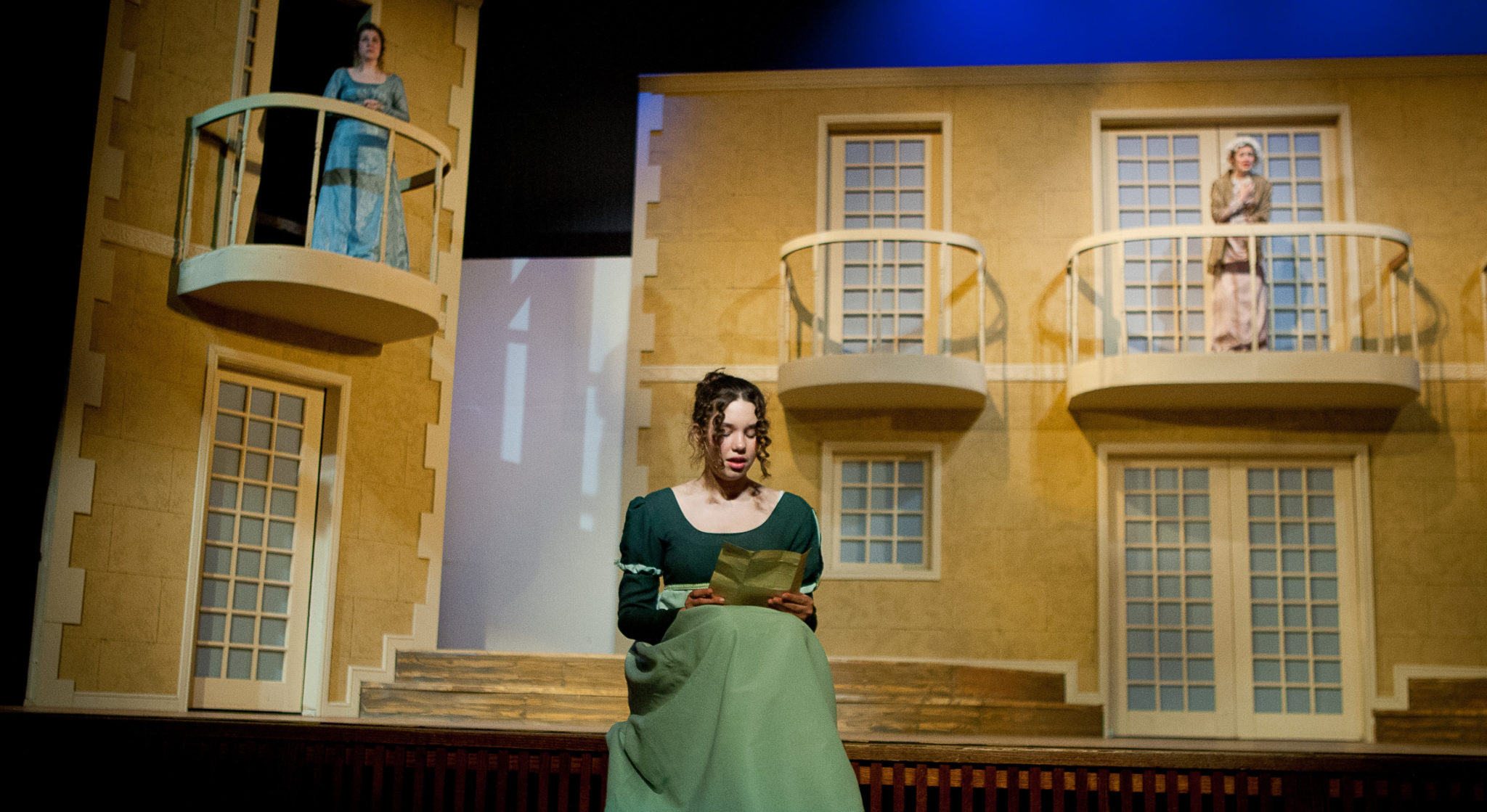 Fall 2013 Production
Lancaster Mennonite High School will present Jon Jory's recent stage adaptation of Jane Austen's novel Pride and Prejudice, on October 31, November 1 and November 2, with performances starting at 7:30 p.m. in the Weaver Auditorium of the Calvin and Janet High Fine Arts Center on the Lancaster Campus. Tickets are $5 for students, $7 for senior citizens and $8 for adults, and may be reserved by calling the box office at 299-0436, ext. 340. The box office in the Fine Arts Center lobby is open each day from 11:30 a.m.-3:30 p.m. to purchase tickets in person. Discounts are available for groups of ten or more.
The LMH production celebrates the 200th anniversary of the classic novel with a vivid, fast-paced adaptation that captures the essence of the characters and holds true to Austen's complex plot.
Set in England, the play centers around the Bennet family and their five unmarried daughters whom Mrs. Bennet is actively trying to marry to wealthy men. Charles Bingley and his close friend, Mr. Darcy, seem to fill the bill for Jane and Elizabeth Bennet, but romance does not come easily due to pride and prejudice.
Photos courtesy of Paul Jacobs Photography.
Detailed Synopsis
The play opens with the Bennet family from Longbourn and their five unmarried daughters in the English countryside. The family is not nearly as rich as others in their social circle, and because they have no sons, their property will pass to the closest male relative, Mr. Collins. Therefore, Mrs. Bennet actively, and rather embarrassingly, seeks to marry her daughters to wealthy men. When Charles Bingley arrives at Netherfield Park, a neighboring estate, the intrigue begins.
The daughters soon meet Bingley, his close friend, Mr. Darcy and his two sisters, Miss Bingley and Mrs. Hurst. Bingley is immediately attracted to Jane Bennet, the oldest of the five sisters. Darcy, however, is proud and rude: he insults Elizabeth Bennet's appearance when it is suggested that he dance with her. Later, after witnessing the sharpness of her mind, Darcy displays an attraction to Elizabeth, but she refuses him because of his previously proud and insulting behavior.
The play moves smoothly from one setting to the next. Jane and Bingley become closer when Jane becomes ill on a visit to Netherfield. Elizabeth walks three miles through the muddy countryside to help care for her. During her stay, Darcy finds himself falling for her wit and frank approach to conversation. Elizabeth quickly realizes that Miss Bingley largely dislikes the Bennet family and that she only pretends to be friends with Jane. This invokes Elizabeth's own pride, and she wishes to have nothing to do with the family except Jane's own happiness with Bingly.
When Bingley, his sisters, and Darcy depart for London, Miss Bingley makes clear to Jane that they have no intentions of returning to Netherfield anytime soon and that Bingley will likely marry Miss Darcy, Mr. Darcy's sister. Meanwhile, Elizabeth meets Mr. Wickham, to whom she is immediately attracted. However, Elizabeth begins to hear reports of Wickham's philandering behavior and decides he is best left alone.
Jane goes to stay in London after the Gardiners, her aunt and uncle, arrive and offer their residence for her upon hearing of her plight with Bingley. She tries repeatedly to see him, but is rebuked by Miss Bingley, and she slowly begins to accept the rejection.
Elizabeth goes to visit Mr. Collins and her recently-married friend Charlotte. While there, she runs into Darcy again. He proposes marriage to her, but she flatly refuses, citing his treatment of Jane and Wickham. After he gives her a letter explaining why he was against Jane marrying the philandering fraud, Elizabeth begins to believe him, but he has already left for London again. She returns home to find that her sister Lydia has been invited to Brighton to stay with an army colonel.Elizabeth warns her father not to allow this because Lydia is a frivolous flirt who is likely to attach herself to anyone.
After a planned vacation to the lake country is cut short, Elizabeth spends a summer vacation with the Gardiners in Pemberley where she once again sees Darcy. She finds that Darcy is much more agreeable than before. Most of the bad traits she had disliked seem to have vanished. She is called back home quickly when it is discovered that Lydia has run off with Wickham. She stays home while her father and Mr. Gardiner search for the two in London. Darcy eventually finds them and helps to pay the dowry for Wickham to take Lydia in marriage, an act that impresses Elizabeth greatly.
Bingley reappears in Netherfield Park for a short while and resumes courting Jane, eventually proposing. Meanwhile, Lady de Bourgh arrives and acts rudely towards the Bennet family, warning Elizabeth against marrying Darcy, as her daughter has been promised to him in an arranged marriage. A few days later Darcy returns himself and proposes to Elizabeth once again. She accepts.