Posted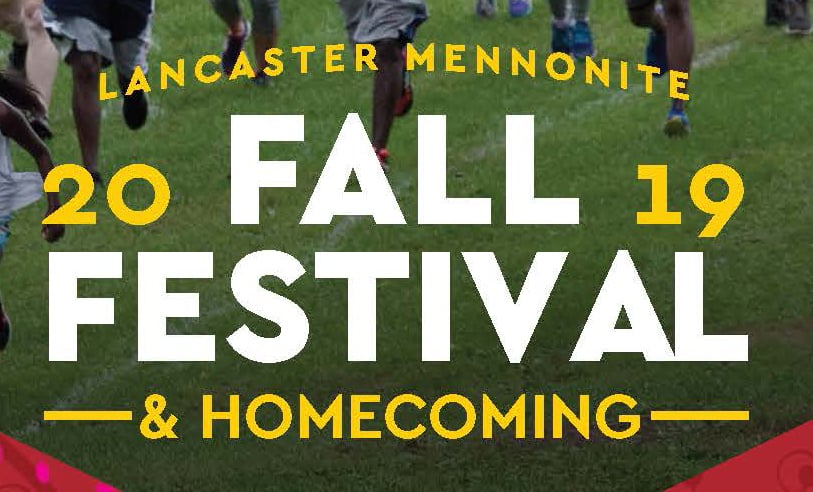 Mark your calendar now for October 4-5, 2019, and get ready for an exciting Fall Festival and Homecoming at Lancaster Mennonite! We hope you will join us for a time of reminiscing on your LM years, reconnecting with fellow classmates and reinvesting in the LM community. Be sure to check out the new events added, such as the Slugs and Bugs Concert and Auction on the patio and seated on the stage of the Calvin and Janet High Fine Arts Center!
Our online registration is NOW open! We hope to see you there!
Friday, October 4
Hess's Famous Pork & Chicken Barbecue
Take-out: 11

:30 AM-6 PM, 

Dine-in: 

4-7 PM at the Alumni Dining Hall

Children's Activities – 4-7:30 PM
Varsity Girls Soccer Game vs. Cocalico – 4 PM
Varsity Girls Field Hockey Game vs. Octorara – 7 PM
Blazer Nation Celebration at halftime of the Field Hockey Game to honor alumni players
Tail Gate Reception following the Field Hockey Game at about 8:45 to 9:45 PM
Saturday, October 5
FFA Pancake Breakfast – 

7:30-10:30 AM

Iron Bridge 5K Trail Run/Walk Begins – 

9 AM


Registration – 

7:45-8:45 AM; Kids Run – 9:45 AM

Slugs & Bugs LIVE Concert – 10:30 AM – 12 noon at the Calvin & Janet High Fine Arts Center
Benefit Auction & Reception
Social Hour with savory small bites and Silent Auction at 7:00 PM on the Fine Arts Center patio
Live Auction and Dessert reception at 7:45 PM on the Fine Arts Center stage
Thank You to Our Generous Sponsors!
SIGNATURE
Dynamic Aviation
Hess's Barbecue Catering, Inc
PLATINUM
Marlin '74 & Sue Groff
Hess Brother's Fruit Company
The Restaurant Store
Turkey Hill Dairy
Weaver Markets
GOLD
Kathy '85 & Anthony '85 Beiler
Everence Financial Advisors
Garden Spot Communities
Esther '66 & Lewie Martin
The Mennonite Foundation
The Old Country Store
Merle '68 & Ruth Ann Reinford
The John & Lisa Sands Family
Ike '90 & Julie Stoltzfus
Dr. Pam K. Tieszen
SILVER
Jeremiah Denlinger '99 & Kristine Widders
North Group Consultants
Planet Fitness (Willow Street)
BRONZE
CCAB Insurance & Benefits, Inc.
CPRS
The Denlinger Family
Grocery Outlet Bargain Market
Inside Track
Kim's Bakery
Kinectiv
Thrivent Financial