Posted
DEPARTMENT AWARD WINNERS: (front row, l-r) Jiayi Li, Science; Benjamin Stutzman, Mathematics; Maia Garber, Music; Lucas Jemison, Social Studies; Nathan Flanders, Physical Education; Abigail King, English; (back row, l-r) Holly Martin, World Language; Drew Bollinger, Technology; James Davidson, Business; Trenton Good, Agriculture; Victoria Jarvis, Family and Consumer Science and Heather Leiby, Art.
On June 4, 148 seniors will graduate from Lancaster Mennonite High School during the school's 74th annual commencement exercises starting at 10 a.m. in the Weaver Auditorium of the Calvin and Janet High Fine Art Center on the Lancaster Campus.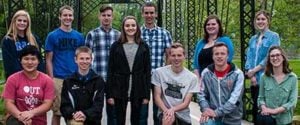 For excellence and character throughout the year, 49 seniors won awards.
One senior won three awards:
Lucas Curt Jemison, son of David and Doreen Jemison, Lancaster, received the Social Studies Department Award, the Presidential Academic Fitness Award and a Scholastic Writing Gold Key.
The following 10 seniors earned two awards each:
Julian Samuel Graybill Brubaker, son of Paul Brubaker and Beth Graybill, Lancaster (Presidential Academic Fitness Award and Scholastic Writing Gold Key)
Lauren Cairns, daughter of Donald and Kelly Cairns, Parkesburg (Presidential Academic Fitness Award and FFA Keystone Degree)
Trent A. Good, son of J. Stephen and Jean Good, Lancaster (Agriculture Department Award and FFA Keystone Degree)
Erin Melissa Kauffman, daughter of David and Sherry Kauffman, Lititz (Presidential Academic Fitness Award and FFA Keystone Degree)
Emily Adeline Leaman, daughter of Philip and Ruth Leaman, New Holland (Paradise Rotary Award and Presidential Academic Fitness Award)
Jiayi Grace Li, daughter of Jiusheng Li and Juan Du, Hangzhou, Zhejiang Province, China (Presidential Academic Fitness Award and Science Department Award)
Jeremy Newswanger, son of Ivan and Karen Newswanger, Bainbridge (Presidential Academic Fitness Award and FFA Keystone Degree)
Rachel Joy Steckbeck, daughter of Andrew and Joy Steckbeck, Lancaster (Alumni Association Award and Presidential Academic Fitness Award)
Benjamin Robert Stutzman, son of James Stutzman and Ann Martin, Lancaster (Presidential Academic Fitness Award and Mathematics Department Award)
Vaughn Halsey Thompson, daughter of John and Enyce Thompson, Paradise (Peacemaking and Service Award and Scholastic Writing Gold Key)
The following 38 students each received one award:
Andrew Christopher Baak, son of Christopher and Elizabeth Baak, Landisville (Presidential Academic Fitness Award)
Drew Michael Bollinger, son of Glen and Sharon Bollinger, Ephrata (Technology Department Award)
Naomi Bronkema, daughter of Robert and Stacy Bronkema, Strasburg (Presidential Academic Fitness Award)
Hannah L. Brubaker, daughter of Andrew and Colleen Brubaker, Bird-in-Hand (Presidential Academic Fitness Award)
Kehang Chang, son of Xiwang Chang and Xuehua Wang, Changzhi, Shanxi, China (Presidential Academic Fitness Award)
Hadassah Sara Colbert, daughter of Gerald Colbert and Christina Ladson, Lancaster (Scholastic and Lancaster Art Gold Key)
James B. Davidson, son of Bradley and Jo Davidson, Elizabethtown (Business Department Award)
John E. Ebaugh, son of Mark and Barbara Ebaugh, Holtwood (Alumni Association Award)
Nathan T. Flanders, son of Allison Flanders-Myers and Joe Myers, York (Physical Education Department Award
Maia Garber, daughter of Lamonte Garber and Marcella Hostetler, Lancaster (Music Department Award)
Nathaniel J. Harnish, son of David and Brenda Harnish, Landisville (Presidential Academic Fitness Award)
Ruohan Hu, daughter of JunYi Hu and Haiying He, Chongqing, Chongqing, China (Presidential Academic Fitness Award)
Victoria Estelle Jarvis, daughter of William and Linda Jarvis, Lincoln University (Family and Consumer Science Department Award)
Kaden Kieffer, son of Harold and Kristin Kieffer, Dillsburg (Presidential Academic Fitness Award)
Ryan Kindelberger, son of Timothy and Betty Kindelberger, Elizabethtown (Presidential Academic Fitness Award)
Abigail M. King, daughter of Bruce and Patricia King, Lancaster (English Department Award)
Jack Daniel Kintigh, son of Lane and Margaret Kintigh, Lancaster (Presidential Academic Fitness Award)
Josiah Curtis Kratz, son of Ronald and Laurel Kratz, Mount Joy (Presidential Academic Fitness Award)
Rebecca Ann Lauver, daughter of David and Alice Lauver, Conestoga (Presidential Academic Fitness Award)
Kara Marie Leaman, daughter of J. David and Jewel Leaman, Lancaster (Presidential Academic Fitness Award)
Heather Rose Leiby, daughter of Scott and Gena Leiby, Lancaster (Art Department Award)
Wei Lin, son of Liangkuai Lin and Yushuange Chen, Changping, Chongqing China (Presidential Academic Fitness Award)
Qiaodan Lou, son of Zhongping and Wanmeng Lou, Shanghai, China (Presidential Academic Fitness Award)
Alex Yaniel Malave Rodriguez, son of Daisy Malave, Lancaster (Presidential Academic Fitness Award)
Holly Gabrielle Martin, daughter of James and Patty Martin, Lancaster (World Language Department Award)
Sophia Martin, daughter of Bryan and Andrea Martin, Lititz (Alumni Association Award)
Madeline Hope Mast, daughter of E. Dean and Jan Mast, Lancaster (Principal's Leadership Award)
Katherine McCoy, daughter of Michael and Deborah McCoy, Millersville (Scholastic Writing Gold Key)
Victor Muhagachi, son of Amos and Esther Muhagachi, Dodoma, Dodama-Urban, Tanzania (Alumni Association Award)
Su Youn Na, daughter of Kung Ju Na and Sang Mi Lee, Amyang, South Korea (Landis Homes Art Award)
Emily Caris Peifer, daughter of Kelly and David Shenk, Lancaster (Alumni Association Award)
Monica Erin Steffy, daughter of Thomas and Victoria Steffy, Leola (FFA Keystone Degree)
Obse M. Tolla, daughter of Mulunesh Macha, Lancaster and Tolla Medeksa, Ethiopia (International Student Leadership Award)
Nguyen Thao Van, daughter of Phap Phu Van and Nguyen Lieu, Huyen Duy Xuyen, Quang Nam Province, Vietnam (Presidential Academic Fitness Award)
Mingyang Wang, son of Jingmin Wang and Li Zhao, Xinxiang, Henan Province, China (Presidential Academic Fitness Award)
Seth Jaron Weaver, son of R. Todd and Anne Weaver, Brownstown (Alumni Association Award)
Bryce D. Yoder, son of Rodney and Sheri Yoder, Mountville (Presidential Academic Fitness Award)
Siwei Zhu, daughter of Guogu Zhu, Guangzhou City, Guangdong Province, China (Presidential Academic Fitness Award)