Posted
The following article was written by Micah Brickner and published by EMM.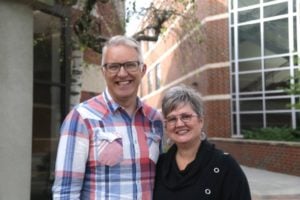 Click here to read article on EMM website:
LANCASTER, Pa. — Five hundred fifty Lancaster Mennonite High School (LM) students were challenged to go 48 hours without using their smartphones or social media. Smartphone addiction is becoming an increasing concern for 21st-century society, especially for adolescents.
Jimm and Kaylene Derksen, chapel speakers for LM's Commitment Week from October 16 to 19, focused on the theme, "The good, the bad, the ugly, and the beautiful" over four different sessions.
They highlighted the kinds of disconnection that people can experience from God and other people — one of which is a result of smartphone addiction.
The Derksens, husband and wife, are both certified soul care providers and also serve on the staff of Eastern Mennonite Missions (EMM): Jimm as a personnel placement coach and Kaylene as the Development director.
EMM's second of three core values is "well-being" — seeking the physical, mental, emotional, and spiritual well-being of its workers and those whom they serve around the world, its staff, and its stakeholders, which includes LM students.
Students were encouraged to fill their smartphone voids, from October 16 to 18, by "journaling their noticings — how they felt, what they knew or didn't know, whose eyes they noticed," said Kaylene Derksen.
One student observed a woman sitting on a bench next to her making a scarf. The student was inspired to make a scarf as a result of stopping to notice the woman next to her. In her own way, not being on her phone helped her enter into creativity.
Other students shared about how they had a greater sense of respect and appreciation for people around them, as a result of disconnecting from their smartphones.
A common trend among the students and staff who took on the challenge: how much time they had by not using their smartphones or social media. One staff person noticed that he felt more rested because he didn't catch up on the news before he went to bed.
Some clinical studies are drawing correlations between the use of smartphones and the increasing rates of anxiety and depression among youth.
In August 2018, The French Ministry of Education issued a ban on the use of mobile devices for students through 9th grade in nearly all of the country's schools. This move is igniting the conversation around the world about whether other schools should follow suit.
The goal was not just to disconnect from technology, but to also use the time as an opportunity for students to reconnect with their communities. The teaching centered on the idea that "disconnecting from God disconnects you from others," said Kaylene Derksen.
Focusing on how disconnection from others can eventually lead to dehumanization, the Derksens addressed human rights crises in places like the Democratic Republic of Congo, Myanmar (formerly known as Burma), and Syria, to name a few.
In their last session, the Derksens shared about how the "beautiful" facet of their teaching was that "God wants to rescue us and restore connection by bringing us back into a relationship with Himself and others," said Kaylene Derksen.
As students exited LM's auditorium, teachers stood at the doorways with bowls of chocolate truffles. Each student was handed a truffle and sent off with the benediction, "You are a gift."
LM holds chapel services four times per week at their Lancaster Campus. The purpose of these gatherings is to provide "a time of worship and cultural events, inviting students to personal faith, Christ-like love, peacemaking, and service for focused and sustained attention to spiritual growth."