Posted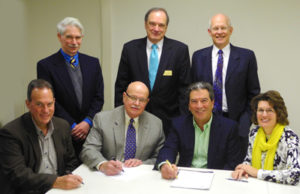 Effective February 27, Hershey Christian School, Hummelstown, with 210 students in kindergarten through grade 12, became a campus of Lancaster Mennonite School.
LMS Superintendent J. Richard Thomas said, "We believe there is a positive witness in our community as we two Christian organizations join together as one school. Our goal is to expand Christian education in central Pennsylvania." Now officially called Lancaster Mennonite School—Hershey Campus, the campus offers a solid educational program that equips students to live faithful, God-honoring lives, said Thomas.
In June of 2013, Hershey Christian School asked LMS to consider adding HCS as an LMS campus. Although LMS initially declined, conversations continued with HCS parents, faculty and board members. Eventually, in January of 2015, the LMS Executive Board came to a unanimous agreement to acquire Hershey Christian School and, on February 10, the Hershey Christian School Association voted to become a campus of Lancaster Mennonite School.
Hershey Christian School will be the fourth school to merge with Lancaster Mennonite School, starting with New Danville Mennonite School in 2001, followed by Locust Grove Mennonite School in 2003 and Kraybill Mennonite School in 2006. The New Danville Campus currently has prekindergarten through fifth grade, the Locust Grove Campus has prekindergarten through sixth grade, and the Kraybill Campus has prekindergarten through eighth grade. The Lancaster Campus offers grades 6-12.
As a whole, Lancaster Mennonite School now has an enrollment of more than 1,600 in pre-kindergarten through grade 12.
The Hershey Campus will continue to offer a K-12 program and Hershey Campus athletic teams will continue to compete in the Commonwealth Christian Athletic Association while the Lancaster Campus remains in the Lancaster-Lebanon League. A parent advisory council will be developed for the Hershey Campus, and one or two current Hershey board members may be invited to serve on the LMS Quarterly Board.
Whereas Lancaster Mennonite School was originally founded in 1942 to serve Mennonite students, persons from many denominations increasingly became part of what is now an interdenominational student body. Each campus eventually served a diversity of Christian families who wanted an excellent education in a Christ-centered atmosphere that emphasized personal faith and discipleship, or as Thomas says, "a school where Jesus is the center of faith, community is the center of life and reconciliation is the center of work."
LMS remains committed to the core values of Anabaptist Christian faith, most of which are shared by persons involved with Hershey Christian School, just as they are by Christians from many faith traditions at other campuses of Lancaster Mennonite School. At both Lancaster Mennonite School and Hershey Christian School, the plurality of families currently identify themselves as attending independent or non-denominational churches.
Albert Roth, the headmaster of Hershey Christian School, will remain in leadership at the Hershey location. At a meeting of school officials to sign the papers that would merge the two schools into one, Roth thanked God for guidance and direction in leading the schools to join together.
"It is a privilege for Hershey Christian School to become part of Lancaster Mennonite School. We believe that we will be better able to fulfill our shared vision of well-rounded, Christ-centered education that equips students to live faithful, God-honoring lives whatever their occupations or callings."
Superintendent Thomas said, "These are exciting times. We believe this acquisition is in keeping with our missional Christ-centered vision and is a way to grow the peaceable reign of God."
The public is invited to a "gathering, vision and celebration" event Monday, March 9, at the Hershey Campus, 1525 Sand Hill Rd, Hummelstown. A student jazz band will perform at 6:30 p.m., followed by a short program at 7 p.m. The main focus of the evening is for parents, staff, students and friends of the Hershey Campus and our other campuses to meet and celebrate together. Tours of the school and light refreshments will be provided.