Posted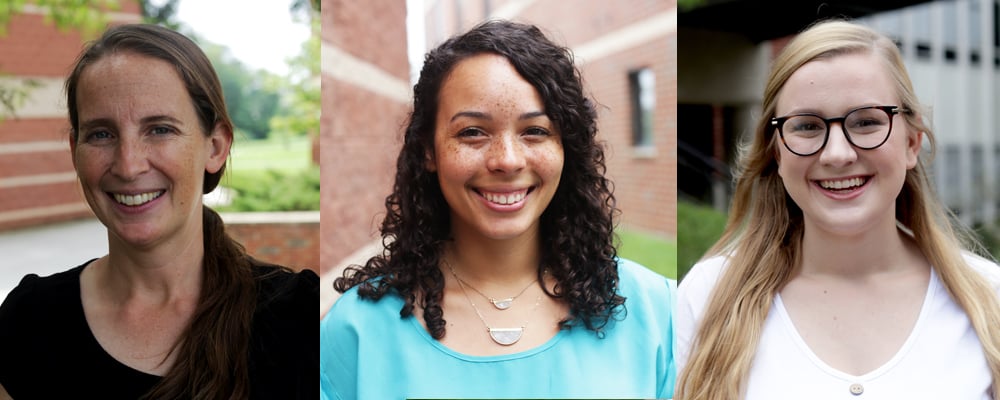 We are thrilled to welcome a number of new teachers to our faculty, as well as give a warm welcome to teachers who are transitioning to new LM campuses. See more information about each of them below, and please help them feel welcome as they join the LM family this year! There are a number of other new staff and faculty that have also joined us this year, and we'll look forward to telling you more about them soon!
Sophie Dodge, New Danville 2nd Grade Teacher
Sophie grew up in Chiang Mai, Thailand, where she spent the first 18 years of her life before moving to the United States to attend college. She is a graduate of Allegheny College with a B.A. in Community and Justice Studies, Education Studies and Communication Arts, and she received her M.S.Ed from the University of Pennsylvania in the Urban Teaching Apprenticeship Program. In Philadelphia, she student taught in two public schools while taking courses for her certification and degree.
She says "I was drawn to LM for it's strong commitment to faith-based teaching and values, celebration of diversity and dedication to justice, and the school community's culture of peace and restorative practices. I wholeheartedly believe in education's capacity for changing the world (even in small but meaningful ways), and feel so grateful for the chance to play a role in building the future by helping to shape tomorrow's citizens, and become a member of the LM community this year."
Outside of the classroom, she enjoys reading, cooking, being outdoors, and spending time with people she loves. She attends Ephrata Grace Church.
Emily Grimes, Lancaster Music Teacher and Choir Director
Emily has a B.A. from Goshen College in Music. Before coming to LM she has been the Music Director at Western Mennonite School in Salem, Oregon, and Music Department Chair at Dock Mennonite Academy in Lansdale, PA.
She has been the Worship band leader at Mennonite Church USA Conventions in 2017 and 2019, and Mennonite World Conference in Harrisburg, PA in 2015, and part of the Hymnal Review Committee Member for new Mennonite Church Hymnal (2020 Release). Emily will be joining the Lancaster campus as the Music Teacher. In her role she will teach music and direct the Campus Chorale touring choir.
She attends Salford Mennonite Church.
Heather Ruark, Locust Grove 1st Grade Spanish Immersion Teacher
Heather has her B.A. from Goshen College, and just finished her Master's Degree in Education with a concentration on Bilingual Education from the University of Texas. She began her teaching career at an international elementary charter school in Atlanta, GA, working with refugee children. Heather has spent most of the past 13 years teaching at two different elementary bilingual schools in Mexico. She has also studied and did volunteer work in the Dominican Republic, Guatemala, Cuba, and the Tex-Mex border. She loves sharing her passion for the Spanish language and its accompanying, diverse cultures. She is very excited to be returning to the Locust Grove campus as a 1st Grade Spanish Immersion Teacher, having taught 3rd grade at Locust Grove a few years ago.
Heather says, "I love teaching because you get to spend your day with amazing children, have the privilege of being part of their formation, and enjoy sharing a passion for learning with them. My philosophy of teaching includes a holistic view of the student, with a commitment to authentic, hands-on, engaging, real life learning experiences in a nurturing, respectful classroom environment."
Her other interests include reading, hiking, traveling, and team sports. She forms part of a bicultural, bilingual, binational family, along with her husband who is from Mexico and her two sons who were born in Mexico and grew up there. Her sons will also be students this year at Locust Grove and LMMS. She and her family attend Community Mennonite Church of Lancaster.
New Teaching Roles & Campuses
José Borrero, Locust Grove 5th Grade Spanish Immersion Teacher
Jose was born in Cali, Colombia. His educational background includes: Industrial Engineering degree, Colombian College of Professional Education, and Spanish BS K-12 at Millersville University. He is transferring from the former LM Hershey Campus to the Locust Grove campus as the 5th Grade Spanish Immersion Teacher. He has taught Spanish at multiple LM campuses and grade levels, as well as at McCaskey High School in the School District of Lancaster.
He says he enjoys teaching because, "I enjoy working and relating with students of all ages and
backgrounds. My main goal is to reach every student at their learning level and help them succeed and make a difference in their education. And I am looking forward to this year to join the Spanish Immersion Program at Locust Grove and be challenged by teaching students all subjects in my native language."
In his free time, he enjoys listening to music, reading books, watching sports and tv series, walking, exercising at the gym, and cooking. He attends Community Mennonite Church of Lancaster.
Curry Snell, New Danville 5th Grade Teacher
Curry is a graduate of Messiah College, B.A. and from Lancaster Bible College, M.S.Ed. She is entering her 21st year of teaching, and has taught at nearly at all the LM campuses – New Danville, Locust Grove, Lancaster Middle School and Hershey. Previously a grade 6-12th English and Language Arts teacher, she is returning to New Danville this year as the 5th grade teacher.
She says, "Going back to New Danville feels like I'm going back home. I have a lot of great memories in that building, and I'm glad God opened the door for me to be back.
 Teaching is a humbling job, and I am grateful the Lord has called me to this ministry. I love watching students learn and apply new knowledge and understanding, and building relationships with students and encouraging them as they grow and mature in all areas of their lives. I'm excited to see what God is going to do in my students this year."
In her free time likes to relax, read, spend time with her family. She attends Community Fellowship Church.
Rachael Thomas, Lancaster Math and Computer Science Teacher
Rachel has a B.A. and M.A. in Pure Mathematics from Bryn Mawr College where her primary area of research was Topology. This will be her 19th year teaching high school mathematics, having begun her HS teaching career in 2001 at Lancaster Country Day School (LCDS), where she was eventually both the mathematics department chair as well as the Marcia Hubbard endowed chair. When it was time for her children to begin school, she left LCDS for Hershey Christian School/LM Hershey campus, where she taught high school math and physics since 2010. This year she'll be with high school students at the Lancaster campus teaching Math, Computer Science and Business Classes, like: AP Calculus AB, AP Calculus BC, AP Computer Science Principles, Business Math, Entrepreneurship, and two sections of Algebra I part 2.
On her teaching philosophy, she says, "I like to think of myself less as a teacher and more as an autonomy-supportive learning facilitator. That might sound like hippy-dippy baloney, but the truth is: if we, as adults and citizens, want young people to be resilient, inventive and industrious, we have to make space for them to develop those habits of mind. Teens have an innate desire to be actively engaged with learning that traditional educational models can frequently inadvertently quench; my philosophy in a nutshell is that creating moments of meaningful and lasting learning is more important than my talking or "covering material." The importance of both equipping and engaging teens with healthy spiritual, intellectual and emotional habits cannot be overstated, and the thrill of being a part of that process is what makes my heart skip a beat every time the kids walk through the door."
In her free time she enjoys: music, playing and coaching soccer, foreign languages (French, Spanish and Japanese), and art (specifically oil painting landscapes). When she's not in the classroom, she works as a professional tuba player all around Central PA in bands and small ensembles. She's also an accomplished pianist, having studied at the Curtis Institute of Music during high school and college. And she attends Open Door Baptist Church.