Posted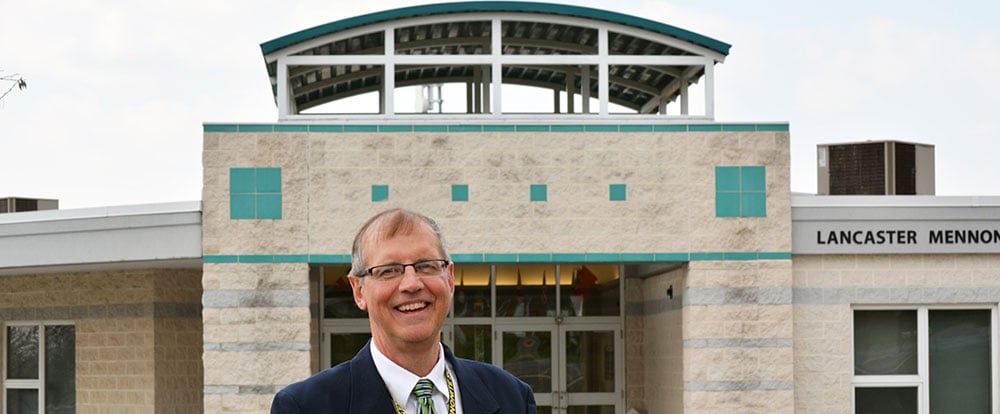 Yoder Takes the Helm of Locust Grove and Hershey Campuses
Miles E. Yoder, Lancaster, has been appointed principal of Lancaster Mennonite School's Locust Grove Campus for the 2018-19 school year. Yoder will also continue in his role as principal of the Hershey Campus, a prekindergarten through high school location at 1525 Sand Hill Road, Hummelstown, where he has served since 2016 while also functioning as assistant superintendent for Lancaster Mennonite School as a whole. A new assistant superintendent is being sought as Yoder oversees both Hershey and Locust Grove.
The Locust Grove Campus serves 263 children in prekindergarten through eighth grade at 2257 Old Philadelphia Pike, Lancaster. "I see a bright future for the Locust Grove Campus," Yoder said. "The campus has a reputation for academic excellence, has an innovative curricular approach and there is a strong sense of community life together."
Yoder brings 39 years of experience to the role of campus principal, starting as a health and physical education teacher at Lancaster Mennonite High School in 1979. In 1983 he was appointed assistant principal of Lancaster Mennonite High School when J. Richard Thomas became principal.
In 2002 Yoder was named principal of the Lancaster Campus, which includes Lancaster Mennonite High School and Lancaster Mennonite Middle School. He filled the newly-created role of assistant superintendent in 2009 to help then-superintendent J. Richard Thomas provide system-wide supervision as the school added campuses and principals.
Yoder graduated from Eastern Mennonite University with a B.S. in Health and Physical Education. A standout basketball player, he was the first men's basketball player inducted into the EMU hall of honor. He also holds an M.A. in Health and Physical Education from West Chester University and a Principal's Certification from Temple University.
Outside of his school responsibilities, Yoder is president of Advoz, an organization providing mediation and restorative practices. He and his wife, Dawnell, are the parents of four adult children and attend Victory Church in Lancaster where they serve on the prayer team. Dawnell is a teacher assistant at the Locust Grove Campus.
Dr. Pam Tieszen, LM superintendent, said, "I am grateful for Miles' dedication and service in the assistant superintendent role and congratulate him on his new role starting in July. LM is fortunate to have Miles serve at both Hershey and Locust Grove."