Campus Unification – Fall 2022
Our Future is Together
PLANS TO UNIFY GRADES PREK-12TH IN ONE LOCATION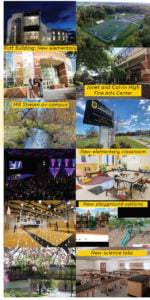 We are excited to share about upcoming changes at Lancaster Mennonite for the 2022-23 school year. With thoughtful consideration of our students and families, our staff and our programming, we have decided to unite our three campuses beginning in the fall of 2022, bringing Locust Grove and New Danville to join the Lancaster Campus (Lincoln Highway location). Our goal is to create a community that is united, empowered, and inspired together.
Board Chair, Kathy Beiler, said, "We are excited to announce that we have envisioned a campus where we can bring the best of our school together for every student. It will make the most effective use of our space with expanded programming, outdoor education, and a shared curriculum. Uniting teachers and programs will allow us to collaborate and educate our students together."
Elementary School (Grades PreK-4th):
The elementary students will be located in the Rutt Academic Building with two elementary streams, one English track and one Spanish Immersion track. This building was chosen specifically for elementary students because of its location and classroom layout, bathroom and handwashing access for young children, playground location, separation from and yet accessibility to middle and high school students and other areas on campus, like the Gyms, Dining Hall, Fine Arts Center, and music and art options.
Middle School (Grades 5-8th):
Middle school (MS) students will be located in the newly renovated lower level of the '64 Classroom Building. Their classrooms location will shift slightly from the current space under the Dining Hall to be more centrally located on the lower level of the '64 Classroom Building. There will be a design lab, project spaces, and a science lab. While 5th grade is housed with the middle school, their classes will be self-contained. Grades 6-8th will have a cohesive curriculum.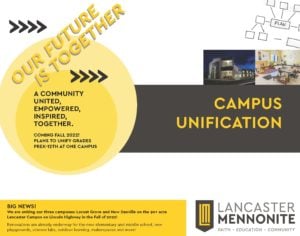 High School (Grades 9-12):
High school (HS) students will continue in a newly renovated 2nd floor of the '64 Classroom Building and the south end of the lower level with larger classrooms. HS and MS offices have moved from the south end to the north end of the '64 Classroom Building, under the Alumni Dining Hall. The former office space will become math classrooms. New science labs will be built, and the Media Center is in a new space in the north end of '64 Classroom Building. The Family and Consumer Science department has moved to recently renovated classrooms on the second floor of the G. Parke Book Building.
We are excited for everyone to be together, and for the opportunities our 95 acre Lancaster campus gives for PreK– 12th grade programming, STEAM activities, outdoor learning, art, music, electives, and growth!