Posted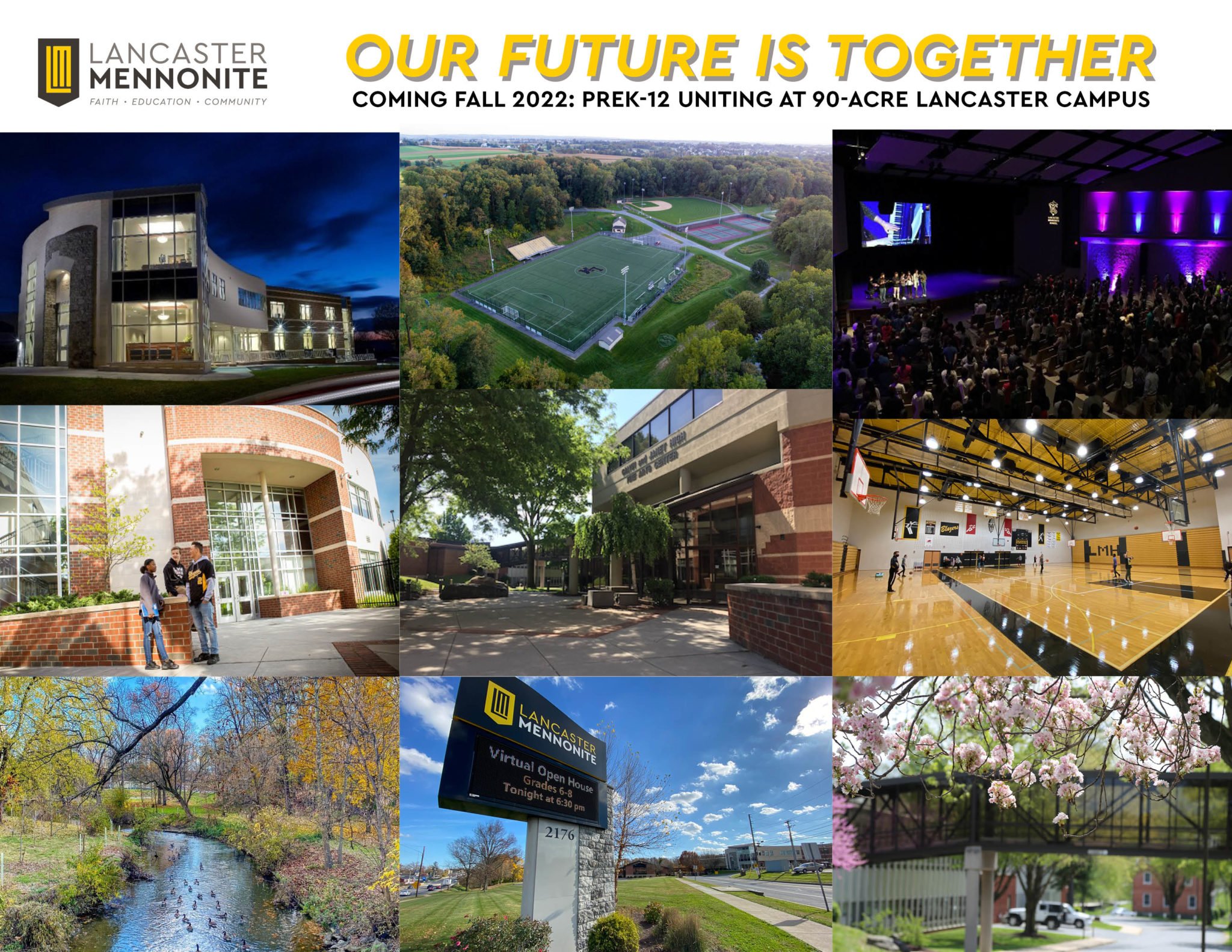 Lancaster Campus – 2176 Lincoln Highway East, Lancaster, PA 17602
We are excited about the upcoming changes at Lancaster Mennonite for the 2022-23 school year when all students will be on the Lancaster Campus. We are proud of our impressive facilities and 90-acre Lancaster Campus, however we know not all current families at our Locust Grove and New Danville campuses have spent much time on or have a familiarity with it. We want to share some of the unique things that are already at the beautiful Lancaster Campus, as well as about the exciting new things you can expect. One thing that is consistent across all campuses is the welcoming, Christ-centered environment and excellent academics you have come to expect.
EXCITING CURRENT FEATURES:
Classroom Buildings – air conditioned, video projectors, and elevator accessible

Rutt Academic Center was built in 2008. It is air conditioned, each room has smart projectors, and elevators provide accessibility for all
'64 Education Building upstairs was renovated last summer and all rooms have smart projectors, new lighting, and more!
Buildings secured by fob and key entrances

State-of-the-Art Calvin and Janet High Fine Arts Center – seats 1,250 in the Weaver Auditorium and is used for chapel and school music and drama performances (during non-COVID times)
Two Gymnasiums, Locker Rooms, Fitness Center & Weight Room, and Athletic Training Room available for physical education class and school sports/practices

Gym A – upgraded and renovated last year, primarily used as our sports practice gym, also used for physical education class
Gym B – primary facility for hosting our competitive basketball and volleyball games, also used for physical education class

Athletic fields – turf stadium, four grass fields, baseball and softball fields, track and field, tennis courts, and more for middle school and high school sports
G. Parke Book Building – Continue to provide Agriculture Science & Technology courses like small engines, welding and mechanics, woodworking, metal shop, animal biotechnology, horticulture, forestry, and more
STEAM (Science, Technology, Engineering, Arts, and Math) Education opportunities in robotics and coding, tech and design classes, visual arts (photography, paint, ceramics, drawing, etc), music (vocal, band and orchestra), drama, and much more! See current STEAM Curriculum Overview
Beautiful Mill Stream flowing through campus
90-acre campus with wooded areas, mature trees, and open grass spaces, and trails
Centrally located and easy access off of Route 30 on Lincoln Highway in Lancaster
EXCITING NEW FEATURES:
Elementary Classroom Set-up in the Future New Elementary Building

Rutt Academic Center (Future elementary building)

Classroom upgrades
Add bathrooms between classrooms for PreK & Kindergarten
New MakerSpace
New elementary offices for Principal and Admin Assistant

'64 Education Building lower level (Future MS & HS building) will be renovated so that all rooms have smart projectors, new lighting, new floors, and more!

Create new Science Labs
Update bathrooms that are ADA compliant
New furniture
New offices at the front of campus and renovate old offices for additional classrooms

G. Parke Book Building – create new Family and Consumer Science classrooms for cooking and sewing classes
New playground
New driveway and gates to improve security and traffic flow and drop off and pick up, especially for elementary families
WANT TO SEE IT FOR YOURSELF?
Well, we invite you to come on over! If you want to see the facilities and a new elementary classroom at the Lancaster Campus for yourself, we encourage you to reach out to our Director of Enrollment, Christy Horst horstcl@lancastermennonite.org or (717) 740-2429 to set-up a personal tour for you and your family.