Posted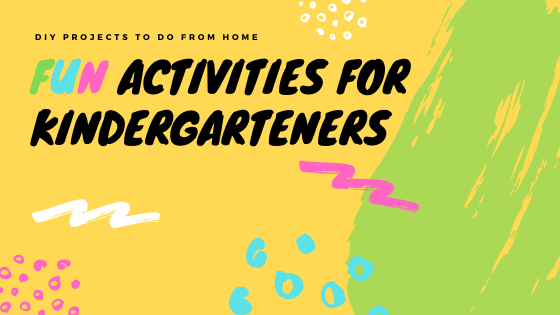 Families are trying to balance working from home or keeping kids engaged in learning and busy during this long break from school during closures and social isolation due to COVID-19.
Lancaster Mennonite School has continued to operate remotely for all of our students in grades PreK-12. Our creative, passionate teachers have continued to develop innovative, quality educational experiences for our students to do online or remotely from home. We wanted to share some resources from our pro teachers that you can do with your kids at home to continue to inspire learning and fun! See below activities and lessons for learning at home with your  Kindergarten age kids.
LEGO Challenges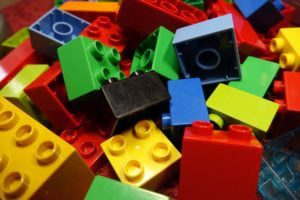 One of our LM Kindergarten teachers, Mrs. Forte is focusing on STEM activities through a number of LEGO challenges for her students to build things out of LEGOS. These challenges provided by The STEM Laboratory engage learners to use their hands to build, create, solve problems, and think critically.
See how many of these LEGO Challenges you can do!
Build your favorite fruit and see if a friend can guess it.
Make a LEGO bridge.
Build an animal with LEGOS.
Make a LEGO tree that stands on its own.
Building something with just 4 LEGOS.
Create a dinosaur.
Draw a rectangle on a piece of paper. Fill the rectangle without going over its edges.
Make something that starts with the letter B.
Build a rainbow.
And  more at: The STEM Laboratory.
Create Patterns with Food & Objects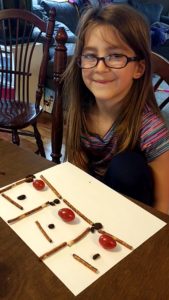 In Math class, Kindergarten students learn about creating patterns and how to predict how the pattern will continue or grow. Try using food or familiar objects you have around your house to practice math by making all kinds of different patterns by placing items on a piece of paper.
Pictured is one of our students practicing making patterns on her paper with food – pretzels, raisins and jelly beans. And she is speaking in Spanish while doing  it as part of our Spanish Immersion Program! ¡Que bueno!
Make Number Stories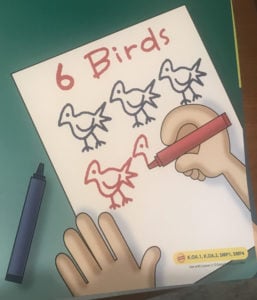 Help your child learn numbers while getting to be creative thinking up and drawing a story to reinforce the concepts (credit McGraw-Hill).
Here's What You Need:
Here's What To Do:
Think of a number story.
Show your story on paper.
Tell your story.
Shadow Art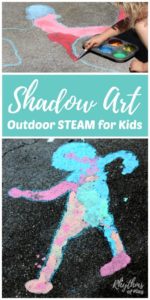 Shadow art is a simple art activity kids can do inside or outside. The art supplies are flexible, and kids can use any objects they want to trace.
Kids can simply trace any pattern of shadow and light on paper, then paint it. Or you could line up toys outside and trace them on concrete with sidewalk chalk.
Ideas of things you could trace:
Sheer window curtains with patterns
Bouquet of flowers
Plastic dinosaurs or animals
Have a person stand in a funny pose
See more detailed instructions for the indoor option from The Artful Parent. Or how to make sidewalk chalk paint from Rhythms of Play.
Get creative and have fun!!
#DrawWithRob
Our teacher found out about this book writer/illustrator, Rob Biddulph, who has started a twice weekly show for kids and families to help them out while staying home during the COVID-19 pandemic. He is from London so his British accent is also fun to listen to! He does a similar thing as "Lunch Doodles with Mo Willems", and helps teach how to draw characters and shapes while he demonstrates it on the video. To the right are examples of what some of our students have been working on practicing drawing from these video lessons.
Click here for #DrawWithRob videos to explore drawing fun characters! Have fun!
Write A Story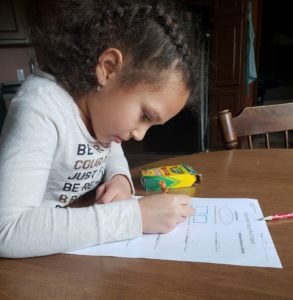 Interview a friend or family member on the phone or through a video call. Find out what that person does for work, what they like to do, what things are special to them. Write a short story about that person based off of what you learned about them. Draw a picture that matches your sentences and include it with your story that you wrote.
We'd LOVE to see your projects when you've completed them! Please share your photos with us at: info@lancasermennonite.org. Thanks and keep creating!