Posted
2022 alumni of the year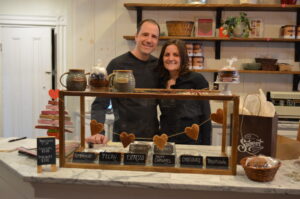 Alumni of the Year is presented yearly to alumni who recently have made a significant contribution through service in their community, profession, family or church. Recipients are selected from nominations made by LM alumni, Alumni Association, faculty, board of directors and other friends of LM.
We are excited to present and honor our Alumni of the Year during our World Changers Gala on March 31, 2023.
In 2010, JENNIE (WEAVER) '95 AND JONATHAN GROFF '93 joined ownership of Stroopies, Inc., a social enterprise business that exists to provide meaningful employment for resettled refugee women while making delicious Stroopies (stroopwafel cookies). In 2016, they opened the Sweet Shoppe in downtown Lancaster, PA where they offer the unique combination of Jonathan's family business, Groff's Candies, local ice cream, and freshly made Stroopies.
What makes the Lancaster Sweet Shoppe sweet is not only their delicious sweet treats, but the purpose behind why the business exists. Jennie shares, "From the founding of Stroopies in 2008, we felt stirred to live out what worship to God and love for neighbor looks like outside the walls of a church. Stroopies was launched with that heart. Currently, women resettled in Lancaster from Syria, Sudan, Congo, Nepal, Burma, and Eritrea make approximately 15,000 Stroopies a week that are sold in Lancaster and all across the U.S."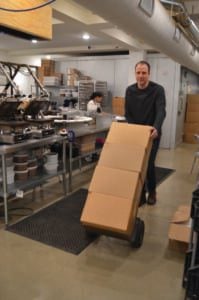 "During the workday, we aim to create a safe environment for the women to know their value and to have renewed hope as they start their lives over in a new place."
In addition, during the paid work day, they have an ESL (English as a Second Language) class that helps prepare the women to grow up into management at Stroopies, or to launch into other careers. "Jonathan and I are convinced that the private sector is a beautiful place for seeds of the Kingdom of God to germinate and grow, and for compassion and resources to be shared. Meaningful work brings dignity, and a social enterprise provides a way for the work to be sustainable," says Jennie.
They both have fond memories of Lancaster Mennonite being a safe place to learn and grow, which was truly a privilege. For Jonathan, he remembers a teacher that challenged him and some of his friends to think not only about themselves, but to care for others. The teacher's encouragement planted seeds that are still bearing fruit in his life.
Jennie fondly remembers LMH chapels, hearing stories of people doing big and small things to serve with Christ's love. These stories left an impact on her to find a way to tangibly show Christ's kindness to others. Jonathan recalls how God stirred his spirit as he'd commute from Millersville through Lancaster City on Manor Street to LMH. He noticed people
of different cultures sitting on their porches in this neighborhood, as well as many condemned houses. In 1998, when an opportunity arose to purchase a condemned house on the corner of Manor St. and W Filbert St. he jumped on it. Jennie joined him in this neighborhood when they married in 2000. They've raised their family in the Cabbage Hill neighborhood for 23 years, and added the Stroopies Distribution Center to this neighborhood in 2022.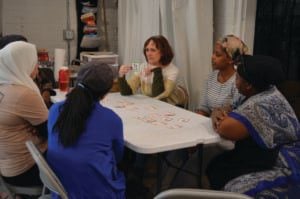 "In 2008, when resettled refugee families started pouring into our Lancaster City neighborhood, we felt truly privileged to be able to welcome these new neighbors from around the world! We saw early on that it was fairly easy for the kids to jump in and learn English and start over. It was harder for the moms; they felt more isolated in their homes, and it was harder for them to learn a new language. The idea of Stroopies was birthed in the hearts of two of our friends from our house church. They had Dutch friends who helped them with an authentic stroopwafel recipe, and in 2008 Stroopies launched. In 2010, Jonathan and I joined the company, and we were able to sublease space from Groff's Candies (where Jonathan grew up) as a place to develop the business. Not everyone has a candy factory in their hands…but we did!" Jennie reflects.
Jennie says, "We are convinced that, if God can use something simple like a Stroopie to make a difference, He can use whatever is offered. We encourage others to dream outside the box. Consider what you already have in your hands that you can build with and find people to do it together with. I want to be a lifelong learner of 'living compassionately,' and to stay close to the best teacher, in Jesus, that I could ever have."