Posted

A Culture of Peace
By Jim Amstutz, LM Bible teacher
The Anabaptist-Mennonite founders during the Reformation embraced a Christ-centered understanding that killing another human being was "outside the perfection of Christ." That meant they were willing to die for their core beliefs, but not willing to kill to defend them. They created a theology of martyrdom and legacy of peace that we seek to carry on.
At LM we approach this confession of peace with humility and hospitality. We are unapologetic about our history and core beliefs, and yet are ready to welcome those from different faith traditions and understandings. This approach means we have the opportunity and the responsibility to witness to the biblical way of peace. I invite each of my classes to try to understand this perspective and practice, even if they are not ready to personally embrace it.
POSITIONING STUDENTS FOR PEACE
Each semester I am responsible for five classes of junior and seniors in high school who are required to take a Bible course. This is both a gift and a challenge. The gift is that I touch the lives of every student in grades 11 and 12 at LM. I seek to get to know them as individuals and invite them to share their story and their truth if they are willing and able to do so. The challenge is to find ways to engage, explain, and spark interest in something they might otherwise choose to ignore.
What keeps me energized are those "aha!" sparks of recognition and the God-moments of transformation. They cannot be scripted or forced, but we rejoice when they happen. We also know that conscientious objection to war in any form remains a minority position among the student body. Students tend to follow the pattern of their family of origin and the dominant culture. Our ongoing task is to give witness to and model Christ's way of peace in all that we say and do, both in and out of the classroom.
PEACE PRACTICES
One way to incarnate this approach is to model and practice peacemaking and peacebuilding in our everyday life at LM. There is a system-wide embrace of restorative discipline in schools. This past school year I participated in two circle processes involving students, parents, teachers, administrators and LM staff. Instead of rigidly following a zero-tolerance, by-the-book disciplinary approach, restorative discipline seeks to repair the harm that was done and restore the relationships that may have been strained. Beyond repairing harm, restorative discipline seeks to create a caring climate within our school community among faculty, staff and students.
CAPSTONE PROJECTS
Capstone projects for Kingdom Living (grade 12) involve 20 volunteer hours in an assignment that ideally taps into their gifts, abilities and interests. Some students find a career path or course of study that might otherwise go undiscovered. Teaching Chinese language classes, working against human trafficking, and understanding the plight of refugees (see below) are some examples of impactful projects. Peacemaking and the use of power are incorporated into the journal prompts for Capstone project reflections.
In all of my classes, I have the freedom and responsibility to share the Anabaptist vision and radical discipleship which embraces nonviolence. Together we create a culture of peace. May the journey continue.
Senior Capstone: Fekrat Khilo, Christina Hostetter, Mutian Li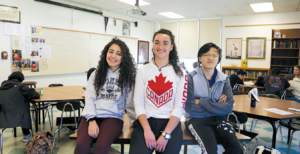 Every Senior Engages In Peacebuilding
Senior Capstone Projects begin with a comprehensive inventory of each student's gifts, abilities and interests. What are they interested in, passionate about, or wish to explore? Next is a mapping of their social networks: where do they live, what is close by that has an agency, program or ministry that holds interest? Do they have family, friends or acquaintances that can assist with making contact for a Capstone project? Christina's aunt knew the Director of Hope Inspire Love, an organization that educates about and combats human trafficking. Her mentor, Amy Thurston, was invited to make a class presentation and Christina continued to volunteer well past her required 20 hours. Mutian taught Chinese to adults with the Chinese congregation that meets at Calvary Church on Landis Valley Road in Lancaster. His mentor was Xiaodong Fan, long-time Chinese language teacher at LM who coordinated the church's Chinese education program. Mutian's sense of power dynamics in the classroom showed wisdom beyond his years. Fekrat volunteered at Church World Service (CWS) and explored her own journey as a refugee with mentor and LM alum Christine Baer '10. Meeting Malala Yousafzai at a CWS event was an exceptional highlight! Self-discovery, leadership development, and meaning-making are key takeaways of the Capstone experience.