Posted

Note: For all of the stories, visit Lancaster Mennonite's  Facebook page.
Lancaster Mennonite School Spreads Love Beyond Distances
As a result of the COVID-19 pandemic, Lancaster Mennonite has been tapping into our creativity like never before. We shifted our in-person annual benefit Golf Tournament and LMMS Service for Learning events for 2020 to instead host a new virtual event, Love Beyond Distances Day, of service and giving on May 13, 2020.
As part of LM's Love Beyond Distances Day students, families, faculty, and staff were encouraged to share a compassionate act and creative message of hope, love, and peace within the community incorporating LM's hashtag, #LoveBeyondDistances on their social media posts. The invitation was also extended to alumni and supporters to join in sharing acts of service or love, and to give financially to LM on this day.
On May 13, LM hosted a 12-hour social media blitz to share all the acts of service. These spread virally, with over 41,000 views on LM's social media posts and stories. "We teach and model to students how to be compassionate and serve others, but it is another thing to actually see this value in action throughout our community and so generously engaged with," says Aubrey Kreider, Director of Marketing & Communications at LM.
Here are examples of few of the most heartfelt and inspiring stories.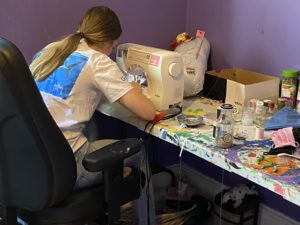 Middle Schooler Sews Masks for Healthcare Workers
After learning to sew in family and consumer sciences class this year, Lancaster Mennonite Middle School (LMMS) 7th grader, Allison Immel, has been spending her free time during the last two months making much-needed face masks. Allison has donated masks to Hospice and the Jennersville Hospital.
Students & Teachers Record Mini-Concerts
High school students from LMH's Campus Chorale and the Drama department recorded songs with a focus on the themes of loving others despite separation. There were students singing duets, soloists singing and playing on the piano in English and Chinese, and one person making 4-part harmony.
LM Director of Bands, Nathan Sheffer, made a tribute video of Elementary, Middle and High School band students from the Locust Grove and Lancaster campuses enjoying their music! And student musicians recorded the music playing behind the photo slideshow in the video.
Students and Teachers Surprise Their Neighbors & Front Line Workers with Sweet Gifts
LM students from each campus poured on the #LoveBeyondDistances with special messages of hope, sweet gifts and surprises and overall love for their communities!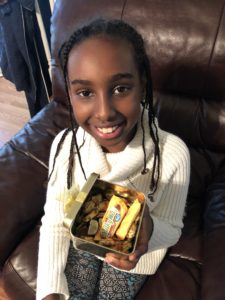 Some students delivered candy and food, like homemade bread and baked goods to neighbors. Other students made cards and signs thanking and praying for their local healthcare workers that they then delivered. A number of students left cards or messages in their windows of thanks for their postal carriers and delivery persons. And other students drew messages, like "Be strong and courageous", "Love Others" or "Thank You Everyone" on the window of the house or sidewalks for people to view as they drive or walk by. Middle schoolers attended virtual baking classes then safely delivered the delicious results to neighbors.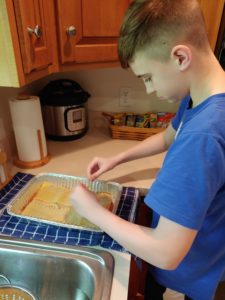 Jackson Harbaugh (7th grade LMMS) made lasagna for the police station where his dad works for a surprise lunch.
Assistant Superintendent & LMMS Principal, Michael Charles surprised his neighbors in Lancaster on May 13 with deliveries of Beiler's Donuts.
Surprise Yard Signs for LM 2020 Seniors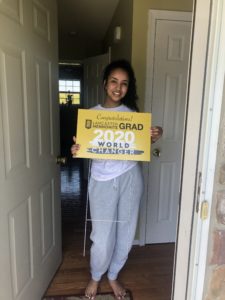 LM 2020 seniors woke up on May 13 to surprise signs in their yards, congratulating them on their upcoming graduation milestone. The school will be hosting a Virtual Commencement Ceremony and Drive-Through Diploma and Photo Event on May 30.
Faculty, parents and staff worked hard behind the scenes to keep this a surprise and deliver the signs, some starting as early as 5am on the 13th.
International students living together in the Residence Hall were inspired to put on their caps and gowns to take photos with their signs.
Middle Schoolers Read Stories to Elementary Students
Both LM Middle School campuses (Lancaster and Locust Grove campus) surprised LM's elementary campus students by reading stories to them via video! Some students were surprised by 'mystery readers' in elementary class video sessions while others shared storytime videos on social media on May 13, both in English and Spanish!
Video Message from Local Pastors
The pastors of students at LM's New Danville campus wanted to encourage all students learning from home with a special video message. Pastors from Habecker Mennonite Church, Branch & Vine, Worship Center, Holy Spirit Lutheran, Manor Church and Victory Church surprised students on May 13.
Special Surprise Deliveries to Teachers, Students and Campuses
The day was filled with many surprise celebrations and gifts. Superintendent, Dr. Pam Tieszen, brought gift packages to each principal and member of the Administrative team to thank them for all their work in the transition to remote learning.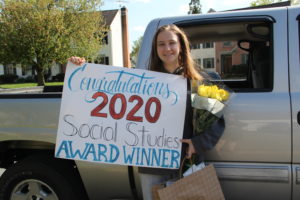 The LM High School Horticulture Class raised, delivered and transplanted an entire garden's worth of vegetables to the New Danville elementary campus. The New Danville teachers then worked on the garden to have it ready for students in the fall and for sharing crops this summer.
Several senior students were surprised by visits (distancing safely) from teachers to award them with their student department awards! Gifts, signs and photos were then shared and celebrated on social media.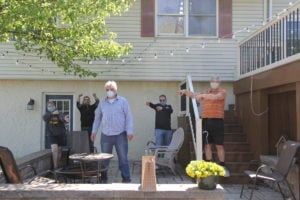 One 2020 Retiree, Tim Yoder, was visited by his department and given plants and celebrated!
"Lancaster Mennonite is thankful for such a loving community that shows up for each other, even from a distance, to bring joy and love in a time when we need it more than ever!" – Carrie King, LM Creative Director.