Posted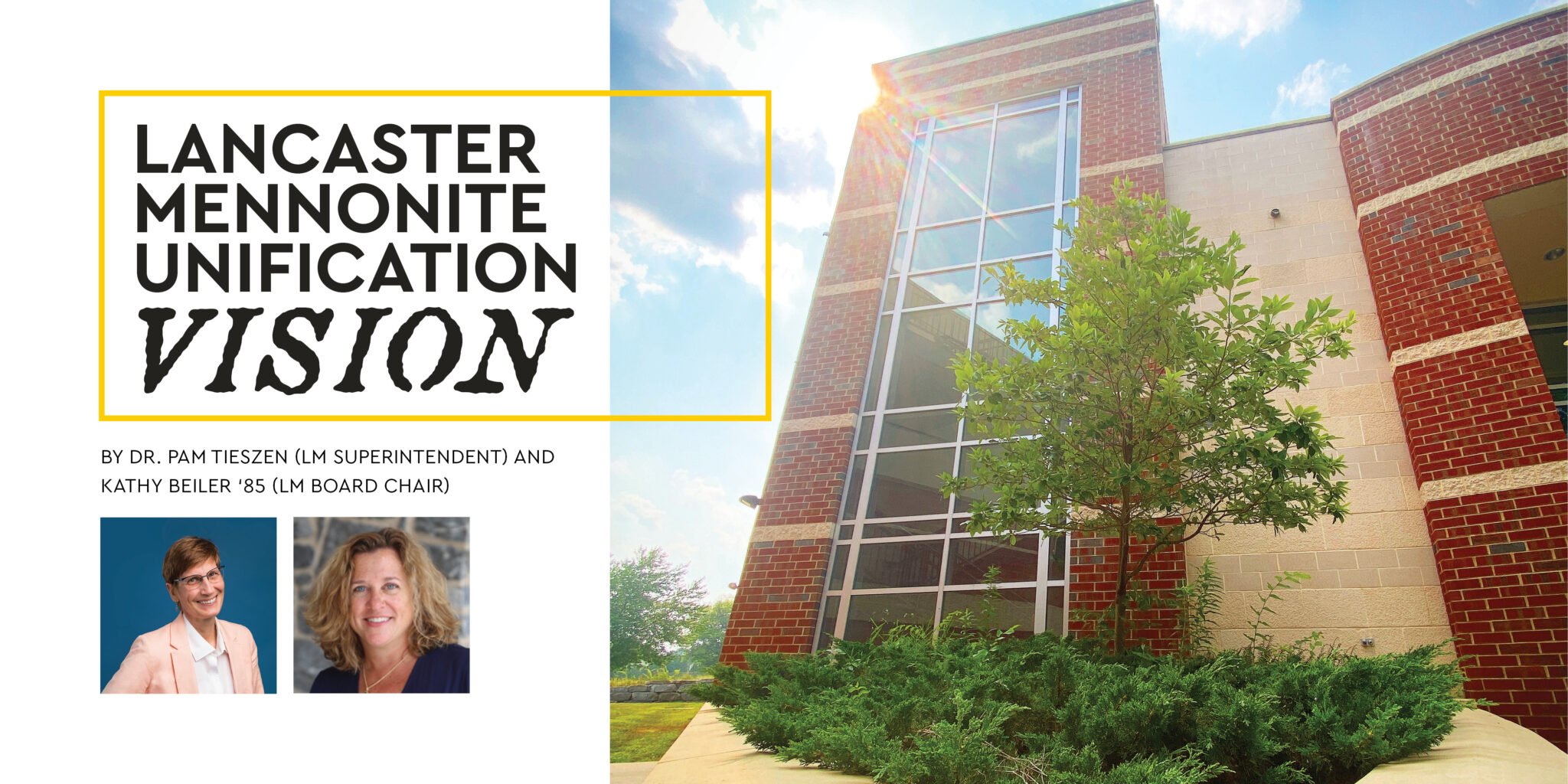 Lancaster Mennonite Unification Vision
Article by: Kathy Beiler '85 (LM Board Chair) & Dr. Pam Tieszen (LM Superintendent)
"Therefore if you have any encouragement from being united with Christ, if any comfort from His love, if any common sharing in the Spirit, if any tenderness and compassion, then make my joy complete by being like-minded, having the same love, being one in spirit and of one mind."
– PHILIPPIANS 2:1-2
These are the questions the LM board regularly asks as we consider the school's current and future place in our community.
How can Lancaster Mennonite best prepare students spiritually, academically, and physically for our complicated world?
How will we care for and maximize the use and benefit of our campus and facilities
to support the mission and programs of LM?
How can we be the best stewards of our financial resources, and partner with stakeholders and agencies to build a campus engaged in community?
Next fall (2022), on the 80th anniversary of Lancaster Mennonite School, we will be unifying our school on one campus. Lancaster Mennonite's unification is not just a physical move, but an opportunity to evolve as an institution and be a relevant, faith based, educational institution for the future, developing students into contributing and caring members of their communities.
Lancaster Mennonite was established in 1942 in response to WWII and a desire to emphasize peace and faith throughout instruction. Today, we are challenged to respond to adversity in our society and our world. We need to prepare our students to be global citizens, and learn what it means to be faithful disciples of Jesus Christ in today's world. The emphasis is not only going into the world to serve, but also on receiving gifts from the global community.
Recognizing that our classmates, colleagues, and neighbors have different values, opinions, and beliefs and still valuing them through Jesus' eyes is one of the greatest lessons we can learn.
Unification of campuses will bring together three distinct campus cultures but will expand our opportunities, efficiencies and ability to empower lifelong learning. We are learning from each other, as we seek Jesus wholeheartedly, and live compassionately together. We are working to build bridges of peace, cultivate global citizens, and nurture curiosity & creativity. We are guided by the Anabaptist values of faith, service and peace, while building respect, learning from each other, and loving each other in Christ. LM is focused on unity.
Join us, as we strengthen relationships, build resilience, and deepen faith connections. We are preparing students to change the world!
UNIFICATION TASK FORCE COMMITTEES & LEADERS
FACILITIES
Focus: How will we care for and maximize the use and benefit of our campus/facilities to support the mission and programs of LM?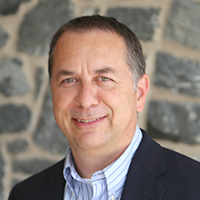 BOARD TASK FORCE CHAIR
ROD LEFEVER, DIRECTOR OF FINANCE
'84 LMH Grad (Locust Grove) and married to Lauri (Hoober) Lefever '88 LMH grad. Three children, all attended Locust Grove and (have graduated from or are currently at) LMH.
"The Facilities Task Force is excited about creating wonderful facilities focused on the needs of each age group, PreK-12th grade, while also affording the ability for interactions across elementary, middle school and high school. We'll be upgrading facilities to support specialty instruction in science, life-skills, fine arts, and extra-curricular activities that were unachievable on individual campuses. It's the home base for today's and tomorrow's World Changers."
LM Internal Leader: Troy Hurst, Plant Manager
CONSTITUENCY SUPPORT
Focus: How can we strengthen relationships, build resilience, deepen faith connections, and create space for families and supporters?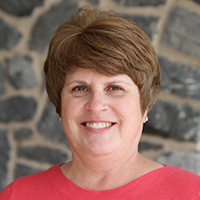 BOARD TASK FORCE CHAIR
BRENDA ZEEVAART, ADVANCEMENT CONSULTANT
Two children at LM, '21 LMH graduate and Locust Grove.
"Having previously experienced a one campus model at another school, I am most excited for the students with the upcoming unification. Cross-grade activities potentially provide opportunities for extended learning, peer tutoring,and a strengthened LM community."
LM Internal Leader: Jon Heinly, Director of Advancement
PROGRAM
Focus: How can LM best prepare students physically, mentally, spiritually, and (holistically) for the complicated world they enter; college, service, or work? Unify programs/curriculum and best of LM integrated faith.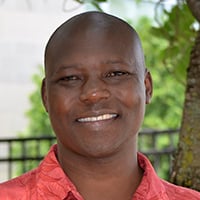 BOARD TASK FORCE CHAIR
NELSON OKANYA, EXECUTIVE & LEADERSHIP COACH
Two children currently at the Lancaster campus in middle and high school, both attended New Danville.
"I believe that the one campus vision is strategic and will position Lancaster Mennonite for efficiency and long-term sustainability. New opportunities for creativity will become available as the world adapts to the post- COVID-19 Pandemic."
LM Internal Leader: Jenn Esbenshade, Curriculum Director
COMMUNICATIONS
Focus: How will we share a hopeful, exciting mission-oriented message with all of our
stakeholders throughout the process?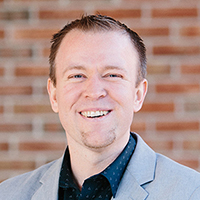 BOARD TASK FORCE CHAIR
JON CARLSON, PASTOR
Three children in Spanish Immersion at Locust Grove.
"As a parent of three, I'm so excited for campus unification. We get to keep all the things we love about Locust Grove —like the caring faculty, the family atmosphere, and the strong academics—while gaining room to grow, new facilities, and the opportunity for our kids to make new friends."
LM Internal Leader: Aubrey Kreider, Director of Marketing and Communications