Posted
MELINDA STEVENS
ELEMENTARY INSTRUCTIONAL COORDINATOR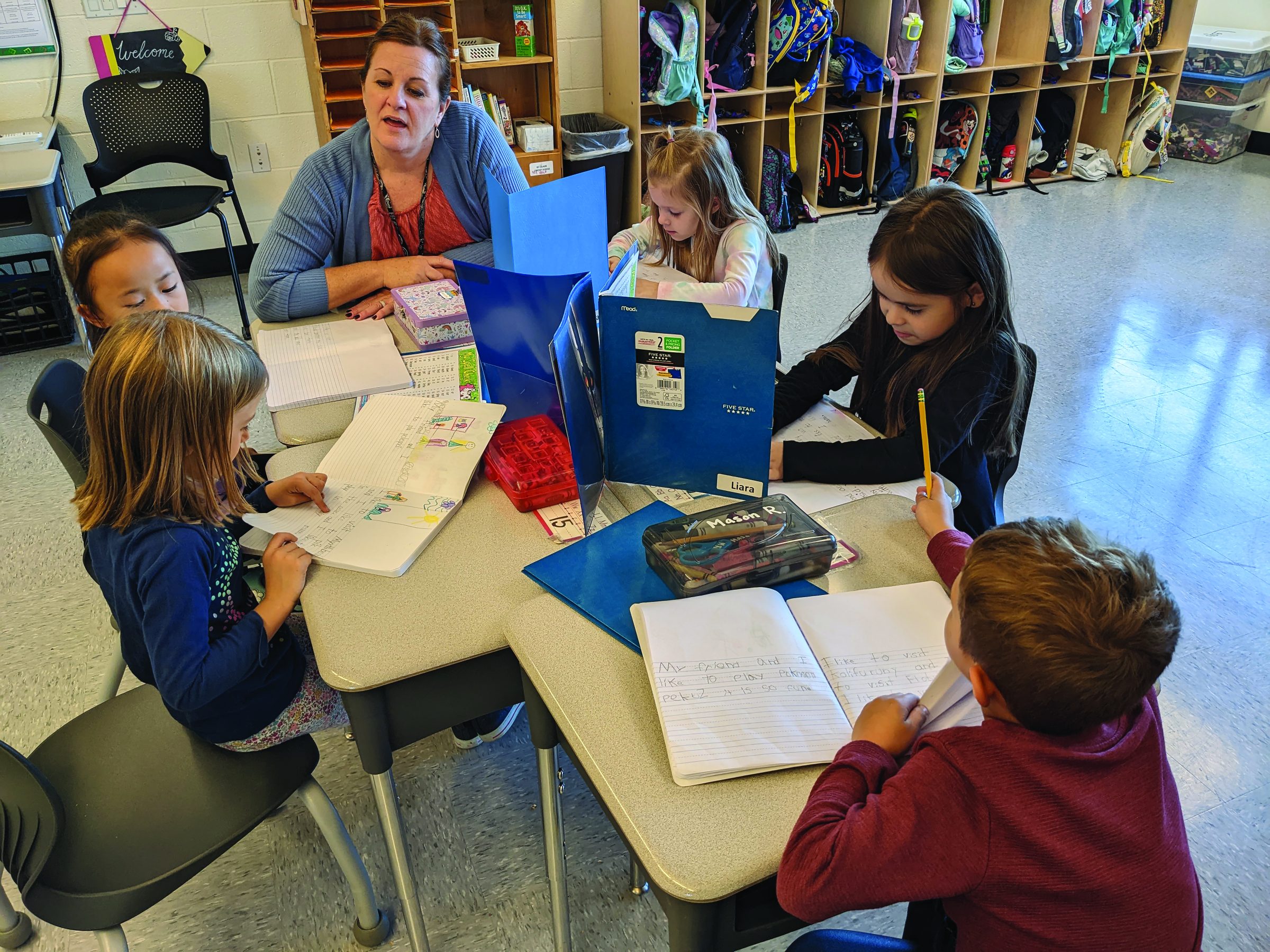 To me, living compassionately in the school setting is seeing every individual – whether it be a student or a teacher – for who they are and accepting them no matter what. It means taking the time to show others that they matter to me and that I recognize and value their place in this world.
At LM, Living Compassionately means living as Jesus did. Being a teacher means we are called to a higher standard of living and to teach our children the core values of Christ and the love of God. Having those values tied into our school's curriculum is vital to our students' faith formation.
Every day, students are immersed in quality education by teachers who compassionately seek to make the world a more loving place to learn about Jesus. The way the teachers design lessons and integrate God's love in those lessons is commendable and shows the students how living compassionately is important.
The students live out core values by caring for the community, caring for nature, caring for friends, and caring for the world. From raising money to send to other countries for clean water to bringing in pajamas for children in their community, the students are given many opportunities to embody LM's core values.
One of the fabulous things that the teachers at LM do is make learning an experience the students won't forget. It is this type of experiential learning that the students carry with them all of their lives and what helps shape them for their future.
GALEN SAUDER,
ELEMENTARY & MIDDLE SCHOOL EXPERIENTIAL LEARNING TEACHER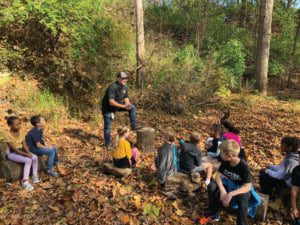 Living compassionately is reflected in the way we work with others and care for the world around us. Throughout
the New Testament, Jesus repeatedly teaches us to love one another. It is the witness of the followers of Jesus that this path has been life changing in a way that is not fake. Compassion expressed is God working in the hearts of God's followers to lift up, heal, protect and continue the ministry of Jesus.
Living Compassionately comes naturally to many students. It's the outside forces and inward needs that can often dampen
the tendency to care and live with compassion towards others. This is where education and experiences can help clear
away the debris that might cause students to begin looking out for themselves by excluding or even oppressing
others. Reinforcing compassionate living through personal story, biblical accounts of the life of Jesus, and demonstrated examples in the classroom is important. These examples set a priority to act right towards others by understanding your calling in this world.
Students at LM are exposed to different cultures within the curriculum as well as through their relationships within our
diverse student body. They are encouraged to approach these differences with respect, curiosity, and kindness that leads to a deeper understanding of others and their circumstances. LM provides opportunities to serve outside organizations
through Senior Service Day, World Changers Week, end of year Mini Courses and experiences, as well as service requirements for National Honor Society members. Students with experience in service are more likely to select service again because they have become familiar with the experience and the expectations.
I believe when students understand the motivation to live compassionately comes from their compassionate Creator, they have already achieved the rationale and only need to put compassion into action.

LIVE COMPASSIONATELY IN ACTION
VARSITY BOYS SOCCER RED CARD CANCER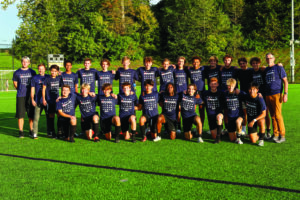 The Lancaster Mennonite Boys Varsity Soccer team joined with area L-L League teams wearing shirts in support of the Red Card Cancer initiative. L-L League schools and families donated to support the cause, and teams wore the shirts during warm-ups all week to do the same.
Lancaster Mennonite joined the initiative in honor of late LM alumnus, NATHAN LONGENECKER '20, a former boys soccer player who passed away over a year ago following a courageous eight-month journey with brain cancer. His brother, Jesse, a junior, is on the LMH team. They are also participating for LM Teacher and Boys Soccer Goalie Coach, Jim Amstutz' brother, Pete, who recently passed away from Stage 4 glioblastoma brain cancer.
MS SEWING CLASS FOR PREKINDERGARTEN (PREK) KIDS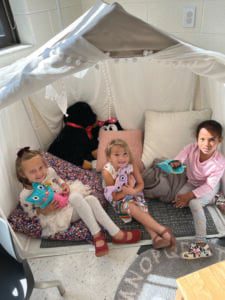 Mrs. Monica Marcincoski's Middle School Sewing class investigated how their sewing skills could be used to encourage our PreK students to read. They interviewed elementary teachers and students for their input and brainstormed project ideas in small groups. Each student created their own project and presented them to Mrs. Gail Lanas' PreK class. Now these PreK students get to enjoy the pillows the Middle School students made for them every day!
COACH, RYAN GEHMAN STORY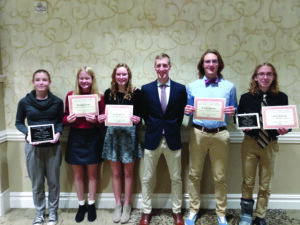 RYAN GEHMAN '11, LM graduate and current LMH Cross Country coach, shared with Lancaster Newspaper how his love of running has helped him overcome a variety of obstacles, including an autism diagnosis, "It's freedom of movement, peace, alone time, quiet and rhythmic…I love the road. I love the trails. I love anything in between. That has given me freedom; it has given me confidence." He hopes his story serves as inspiration to others like him at a younger age, encourages parents of children with autism, and that others will give children with autism a chance. "Give them the option for recovery," he said. "It's the least we can do. That provides hope. And hope is powerful," he shares in the LNP story.
BIRTHDAY PRAYER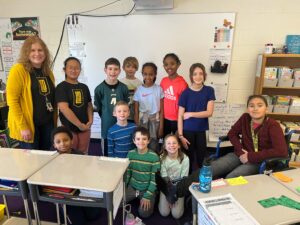 4th grade teacher, Mrs. Denise Bender, prays for each student in her class on their birthday, and when she came back from being sick over her birthday, her students asked to do a prayer for her. Every single one of them prayed out loud for her!
NATURE WALKS AND EXPERIENTIAL LEARNING WITH MR. GALEN SAUDER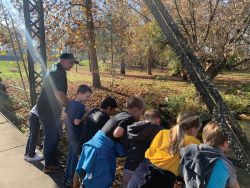 Nature walks with Mr. Galen Sauder, Experiential Learning Teacher, are very popular with our Elementary students. They love getting to explore our beautiful campus and learn about the incredible nature we have right in our classroom's backyard! Each day during recess, Mr. Sauder takes a group of interested Elementary students on an outdoor
exploration. One day, 3rd grade boys joined him to explore and learn about flowers in bloom, trees dropping their leaves and nuts, groundhogs, and the stream running through our campus.
Another day Ms. Sophie Dodge's class went on a walk that included the Mill Stream, pond, garden, greenhouse, and a special area called "The Cove." After their walk they gathered as a class under a beautiful tree to reflect on what they were grateful for in God's creation.
MARTIN LUTHER KING JR. DAY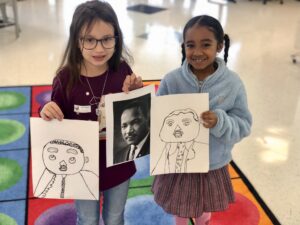 It was so exciting to see our students' artwork displayed at Tanger Outlets in honor of Martin Luther King Jr. Day!
In addition, Dr. Michael Badriaki, had the honor of attending Crispus Attucks Community Center's 35th Annual Rev. Dr. Martin Luther King Jr. Breakfast in Lancaster and delivering the benediction to those in attendance.
The event challenged attendees to ask, "And How Are The Children Now?" which is a traditional greeting passed by the Masaai Tribe in Kenya. Dr. Badriaki closed the event by sharing the second part of the greeting in his benediction – the traditional response of the Masaai tribe, "The children are well."
HS GLOBAL STUDIES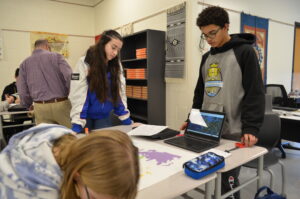 In Mr. Michael George's High School Global Studies class students designed and created their own "Human World" board games to help them review for a Human Geography test. This activity helped the students to learn and practice vocabulary terms such as population density, ethnic group, language family, population pyramid, democracy, and more!
ELEMENTARY PAJAMA DRIVE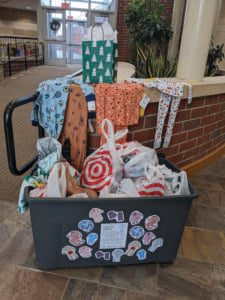 During the Thanksgiving and Christmas holiday season, Elementary students showed their
gratitude and generosity by collecting pajamas for kids in our local community. They collected 90 pairs of pajamas that were donated to partner organizations at COBYS, Clare House, Milagro House, Water Street, and Domestic Violence Services of Lancaster County. What a joy to see students of all ages show compassion to others!
HS ENVIRONMENTAL SCIENCE CLASS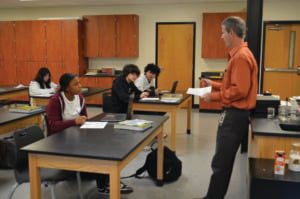 In Environmental Science High School students took a day and worked on calculating their carbon footprint. They looked at how much they actually consume and talked about what they can personally do to consume less and help share more resources with those around them. They also looked at how to be wiser consumers by buying and using local foods and products and building the community around them.
MS SERVICE CLUB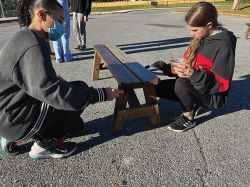 This year, Middle School students have the option to participate in Service Club! Mr. Galen
Sauder, Experiential Learning Teacher, organizes the club, and they help with a variety of projects around campus. Recently, they painted picnic tables for our Elementary students. It's so exciting to see the ways all our students can interact on our unified campus!
SENIOR SERVICE DAY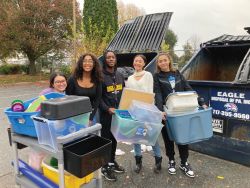 One day each school year, LM seniors are given the day off from classes to go out and serve in the community. Eight organizations were supported by LM students for the day including Mennonite Central Committee (MCC) Material Resource Center, Woodcrest Retreat, Eastern Mennonite Missions (EMM), Friendship Community, Clare House, Mennonite Life, Mennonite Disaster Service, and Community Action Partnership (CAP). We're so proud of our senior class for stepping up and being World Changers.