Posted

LM's Updated COVID-19 Protocols
In the past few weeks the CDC has updated guidance concerning quarantining and isolation for COVID-19.  LM is following the CDC guidance and has updated our COVID-19 protocols.
View our Updated COVID-19 Plan and Procedures on our COVID Information.
New Flowchart
Penn Medicine Lancaster General Health continues to be a resource for schools by providing clear guidelines based on the new CDC protocols for quarantine and isolation after a COVID-19 exposure. The updated flowchart provides information on COVID-19 exposures, testing and return-to-school guidance for vaccinated and unvaccinated students and employees.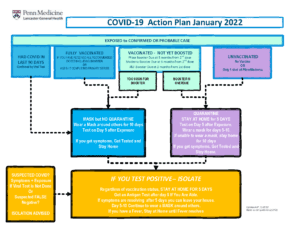 View the full page flowchart by clicking the "COVID-19 Action Plan & Chart" button below.
Focused on Safe, In-Person Instruction
LM continues to monitor the positive COVID-19 cases in Lancaster county and at each of our campuses. We will continue to follow our safety protocols that have been in place since the start of the school year:
Consistent and correct mask use for employees, students and visitors when indoors
Handwashing and respiratory etiquette
Reduced sharing of supplies among students
Social distancing of 3 feet or more whenever possible
Requiring students and staff to stay home when any symptoms are present
Cleaning and disinfecting classroom and high touch surfaces
You can help us continue with in-person instruction by communicating with your campus office when your student has been exposed to COVID-19, has tested positive or has symptoms.
Caring for the physical, mental and spiritual well being of our employees and students is our top priority, now and always. Thanks so much!