Posted

This is the first year that every Lancaster Mennonite student in grades PreK-12 is at one unified campus. It's been wonderful to have increased opportunities for interactions and mentorship across the grade levels.  This is true for students and siblings, 12th grader, Matt Goppold and kindergartener, Maggie Goppold, who are the 'bookends' of our unified school.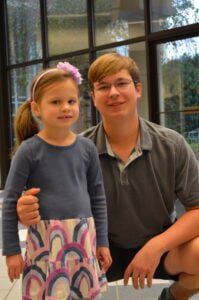 "I like seeing my older brother, Matt, at lunch during the school day. I like learning about God and Jesus during chapel and in Bible class at LM."- Maggie Goppold, Kindergartener
"My favorite classes are anything related to science, and these challenging courses have prepared me well for the future. The tight-knit, diverse community at LM is unique, and it has definitely helped me grow in my faith."– Matt Goppold, 12th Grader
By growing in faith, building a supportive community, and learning skills that will equip them for the real world, Matt and Maggie are being empowered to become world changers!
View Maggie & Matt's video of what they love at school & dream for below.
Unification Impact
Through unifying at one campus, all grades have new science, technology, engineering, art and math (STEAM) spaces to help them develop 21st century skills of problem solving and collaboration through the lens of Jesus. At LM, our teachers and caring community nurture curious, Christ-centered leaders that our world needs.
LM MATCHING POOL!
You are in the world, working for positive change everyday. As a friend of LM, we invite you to Give Together For Our Future and support the next generation of world changers. Give on Friday, November 18 at ExtraGive.org to have your gift stretched by the Lancaster County Community Foundation – or send your gift directly to LM today!
Your gifts provide financial support for quality education and equip the next generation to change our world together! Thank you for believing in LM and equipping students, like Matt and Maggie, to change the world!
FAQS & ADDITIONAL QUESTIONS
If you'd like to read more about the changes to the ExtraGive program for this year, please visit our FAQs page on our website at: lancastermennonite.org/extragive-faqs or by clicking on the "LM ExtraGive FAQs" button below.
For additional information about the Extragive, please visit their website: https://www.extragive.org/info/faq.
For more questions, please contact Jon Heinly, Director of Advancement directly via email: heinlyjd@lancastermennonite.org or phone: 717-740-2425.
P.S. Join us on November 18 for a day of events on campus and downtown – Learn more by clicking the button below.
THANKS AGAIN FOR YOUR SUPPORT!