Spanish Immersion
Growing in Understanding
We offer a unique Spanish Immersion Program at the Locust Grove Campus. This program — focused for English-speaking students beginning in kindergarten — equips them to read, write, and speak in the Spanish language.
Spanish Immersion students will meet all academic standards of Lancaster Mennonite School and will develop proficiency in Spanish language communication. As students learn in Spanish, they grow in understanding Latino, Latin American and Spanish cultures. This program will prepare students to be life-long learners who are transformed through Christ to change our world.
As a missional center for the church, our vision includes the belief that learning another language and culture is crucial to being a missional church both locally and globally. Through language and culture we are able to join God at work bringing healing and hope to the world that God loves.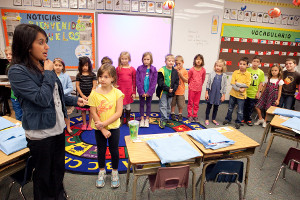 Why Immersion?
Immersion programs are the fastest growing and most effective type of foreign language instruction currently available. The goal of language immersion is for students to become proficient in a second language while developing increased cultural awareness. Students develop proficiency in the second language by hearing it and using it to learn all of their school subjects rather than by studying the language by itself.
How Long Will It Take?
After 2 or 3 years in the immersion program, reading and listening skills are comparable to native speakers of the same age. However, speaking and writing skills will lag behind native speakers and will not be as grammatically accurate or complex (Johnson & Swain, 1997). Native-like proficiency in every skill area is unlikely. However, immersion students will have a strong base upon which to continue moving toward full proficiency through Spanish courses in middle school and high school.
What about English?
Research shows that the immersion experience enhances English language development (Cloud, Genesee & Hamayan, 2000). During the primary years, students' English language development may lag temporarily while instruction is in Spanish. However, by fifth grade immersion students perform as well as — or better — than their English-only peers. It is important for parents to expect and accept a short-term lag in order to achieve a long-term benefit.
Start Young
The young child's brain is developmentally ready to learn language. There is a window of opportunity in which a child learns a language naturally. After this period, the brain is less receptive and the job is much more difficult.
Curriculum
The Spanish Immersion Program will follow the LM elementary curriculum except that classroom instruction will be in Spanish. Teachers work hard to make the Spanish comprehensible, even for beginning students. In the early grades this includes the use of songs, useful phrases, chants and rhymes, and carefully structured days with familiar routines. As students progress in the program and their comprehension improves, less supports are needed. In the first two years of the program, students may communicate with the teacher and each other in English, but are encouraged to use Spanish. After these initial two years, students are required to use Spanish. Classroom decorations and learning tools are all in Spanish as well. Specials in music, art, and physical education will be taught in English.
Parents' Role
Like all parents, parents of children in the Spanish Immersion Program should provide experiences that help their child develop English language skills. Parents need to read to their children in English and engage in activities to reinforce what they are learning in school.
Families are also asked to make a long-term commitment to the Spanish Immersion Program. A long-term commitment is necessary for the child to experience the benefits of the program.
Expectations for Parents
Develop a realistic understanding of the immersion program
Provide experiences outside school to develop English language skills
Be sure your child attends school regularly
Volunteer in the classroom and in the school. Many volunteer opportunities are available. Parent involvement in school activities greatly encourages children to succeed in school.
Register for Spanish Immersion
Parents who are interested in enrolling their children should complete a Commitment Form to reserve a place in the program. Enrollment will not be considered complete until the school's regular application form is completed, submitted and accepted, along with a $100 registration fee.