Posted

Your Gift Makes This World Changing Education Possible, Join Us With Your Fiscal Year End Gift to LM!
"The community at LM is amazing, and my fondest memories are from the many activities I was involved in. I will take the lessons of what it means to be a good friend with me."
– Josiah Esch, Class of 2021
With graduation recently behind us, we reflect on and celebrate our amazing school year! We note a few accomplishments of students as they launch into the community and world, having learned the additional skills of adapting to unexpected life events:
12 seniors and juniors – first inductees into the Sociedad Honoraria Hispánica, an honor society for high achieving students in both Spanish and the rest of their studies
Qianxiang Ma '23, won 1st prize in the Lancaster International Piano Festival Junior group
Seniors, Mariah Wilson and Cole Fisher, each joined the 1,000 point club for basketball. And Mariah is the All-Time leading scorer in LM School history, and joins the 1,700 point club for LL League – read more.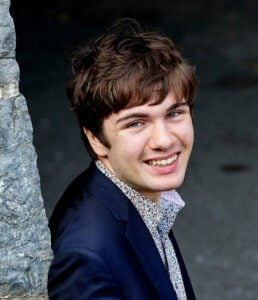 LM teachers walk with students through academics, co-curricular programs, and personal experiences to prepare them for their next chapter.
Graduating senior, Josiah Esch, was Class President, participated in dramas, Odyssey of the Mind, was on the winning team for WGAL's Brainbusters, and more.
"LM has prepared me for the future! Next year I am attending Eastern University's Honors College. I plan to study History or English, and be involved in student government and theatre," says Josiah of his plans after graduating from LMH this year as part of the class of 2021.
Students like Josiah are being equipped in a supportive, Christ-centered community to excel in academics, fine arts, and as leaders to thrive in the world beyond LM.
Change a Student's World
We are especially grateful this year for God's faithfulness and the generous support of our LM community. To every individual, family, church, and business who has supported LM financially this year, we say, "Thank you!"
You can change a student's world through your gift today by helping us fill the remaining gap of $596,412. Here are a few giving options to consider:
Give a portion of your economic stimulus
Donate appreciated stock
Maximize your gift's impact and tax benefits through the CARES Act
We hope you will join us in supporting a Christ-centered, world changing education for LM students – when we work together the future is bright for students, like Josiah!
Join us in raising up the next generation of historians, writers, musicians, creators and world changers! Please consider supporting and maximizing  your gift today before our fiscal year ends on June 30, 2021.
P.S. $600 each from 994 donors will fill the gap today!
CARES Act Tax Incentives Extended - With a Small Boost
A couple of key provisions of the CARES (Coronavirus Aid, Relief, and Economic Security) Act were extended into the new year (and, in one case, increased). Here's what the new stimulus package means for you in 2021.
Tax Incentives When You Give to Charity:
An expansion of the universal charitable deduction for cash gifts – The universal charitable deduction has not only been extended but given a well deserved upgrade. The new deduction is $300 for single filers and $600 for married couples filing jointly. This is available to taxpayers who take the standard deduction. This tax incentive is available for cash gifts to qualified charities, like LM (but not to supporting organizations or donor advised funds).
An extension of the cap on deductions for cash contributions – Contributions to public charities are generally limited to a percentage of a taxpayer's adjusted gross income (AGI). The CARES Act lifted the cap on annual contributions for those who itemize, increasing it from 60% to 100% of AGI for 2020 (and now for 2021). Any excess contributions available can be carried over to the next five years. (For corporations, the law raised the annual limit from 10% to 25% of taxable income.)
Contact Jon Heinly at heinlyjd@lancastermennonite.org or (717) 740-2425 to learn more about the renewed and expanded tax incentives for 2021.