JOIN US FOR AN OPEN HOUSE EVENT ONLINE OR IN-PERSON!
Lancaster Mennonite School will be holding Summer Open Houses on our three campuses. Join us for an in-person or virtual tour timeslot, talk with administrators, meet the teachers, and ask questions. Interested students, parents and guardians grades PreK-12th are welcome to join us!
OPEN HOUSES AT OUR 3 CAMPUSES:
At Lancaster Mennonite, we believe in creating an inspiring, faith-based atmosphere, where students are provided the opportunity to reach their full potential and be equipped to flourish in the real world.
Learn more about LM by attending our upcoming Summer Open Houses at one our three Lancaster area campuses:
New Danville Campus: For grades PreK-5th on Tuesday, July 27, 2021 starting at 6:30pm – Directions to 393 Long Ln, Lancaster, PA 17603
Lancaster Campus: For grades 6th-12th on Thursday, July 29, 2021 starting at 6:30pm (Project-Based Learning Middle School available) – Directions to 2176 Lincoln Highway East, Lancaster, PA 17602
Locust Grove Campus:  For grades PreKth-8th on Tuesday, August 3, 2021 starting at 6:30pm (Spanish Immersion and English Tracks available) – Directions to 2257 Old Philadelphia Pike, Lancaster, PA 17602.
Choose from two elementary and two middle schools for the '21-'22 school year. Coming Fall 2022 we will be uniting at the 90-acre Lancaster campus – Learn More.
Our PreK-12 students are World Changers TOGETHER.
We hope you will join us at an open house to experience the caring, diverse community and unique programs that represent the LM difference! Exciting things include Spanish Immersion (Locust Grove only), Makerspaces, music and art, award-winning teaching garden, champion athletics, emphasis on peace building and community, full day preK and K options, and much more!
We were named by Newsweek as a Top 5,000 STEM High School – learn more. Additional exciting things include: STEAM Curriculum, Spanish Immersion, Makerspaces, fine arts, champion athletics, emphasis on peace building and community, full day preK and K options, and much more!
Register Now!
Register by clicking the button below and we'll help set-up your in-person tour time. We will email you a link to pick your timeslot. Attendees will receive a special gift from LM!
You can contact: admissions@lancastermennonite.org with any questions.
Pre-register for an Open House event!
Thanks to Spanish Immersion my 3 kids are fluent in Spanish!
I am very impressed with the Spanish Immersion Program. My three kids went through the program and they are very fluent in Spanish thanks to the school and other factors. What I like the most is that my kids are also doing great with their English grammar, reading and writing, therefore they are learning a great deal in both languages.
Cynthia Kettering
Parent of Child in Spanish Immersion Program
The teachers at LMH had a great impact on my life.
They helped me build my self-confidence and encouraged me to dream and work towards what I want to be in the future. LMH is an extraordinary school, which helped me succeed by believing in this principle: "If you can dream it, you can do it."
Estella Fan Xinyuan
Alumnus
PBL provides skills that will equip our child for the real world
"The LM Project Based Learning Middle School has really helped our child develop into a confident person, willing to try new things and solve problems collaboratively. The environment at LMMS is a safe place to take risks and foster creativity, innovation, and perseverance in students. These are skills that will equip them for real challenges and help them grow into adults who will be able to follow their passions."
Jen Frederick
Parent of Child in Project-Based Learning
People at LM don't just preach the word, they live it.
The teachers really cared. You weren't just this kid that was in the class. They really cared about your future and your relationship with the Lord. That stuck with me with how I teach kids. I'm a Blazer through and through, and getting an award helps to send that message out that I'm doing what I think God put me on the earth to do. If you're not helping others, I think you're just wasting time.
Ty Bair
Alumnus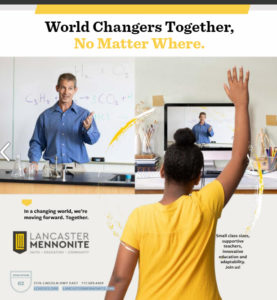 How LM Was Providing for Students During COVID-19
Get a window into what LM provided for students during COVID-19 with our news release about how LM quickly transitioned to learning remotely and student stories, as well as our Learning At Home Resources and activities from our amazing teachers all ages. Click the buttons below.

Our Programs
Academics
At LM, academics are more than earning a grade, it's about challenging the mind to think, encouraging students to learn, and perform exceptionally. Dedicated teachers equip students with these tools to, not only grow in their education, but to also make a positive impact on the global community.
Athletics
LM Blazers are a resilient group of individuals who work together to represent their teammates, coaches, parents, school, and community with athletic and academic excellence. They are a group of individuals who show teamwork, sportsmanship, and character on, and off, the field.
Fine Arts
LM is committed to providing students with opportunities to embrace their gifts and talents. Through an education integrated with the arts, students develop an understanding and appreciation for various forms of art, faith, and the world.
Our Campuses
Lancaster

The beautiful 95-acre Lancaster Campus provides students in grades 6-12 in Lancaster Mennonite High School and Lancaster Mennonite Middle School with a comprehensive program of academics, fine arts, athletics and co-curricular activities. LMMS offers Project Based Learning through the LMMSConnect! program in grades 7 and 8. Learn More >
Locust Grove

The Locust Grove Campus provides PreK through grade 8. Locust Grove is one of the few schools in Lancaster County that offers the option of Spanish Immersion from kindergarten through sixth grade in addition to traditional classes. Learn More >
New Danville

A PreK-Grade 5 campus, New Danville features a strong early childhood program that prepares students for the next levels of learning. Within a very diverse student body, nurturing teachers create a fun, safe environment for learning. Learn More >
Unable to make it to our Virtual Open House?
No problem! We will record the session and can share it with you.
Since we don't have any in-person days coming up, please contact us to talk further or get the presentation shared with you and/or we can schedule a personal visit. Reach our Admissions Team at (717) 509-4459 or admissions@lancastermennonite.org.